Rebecka Brasso's
Antarctic Research Blog 2010-11
Follow along with Rebecka as she travels to the Antarctic Peninsula to study penguins. Posts are in chronological order from the top.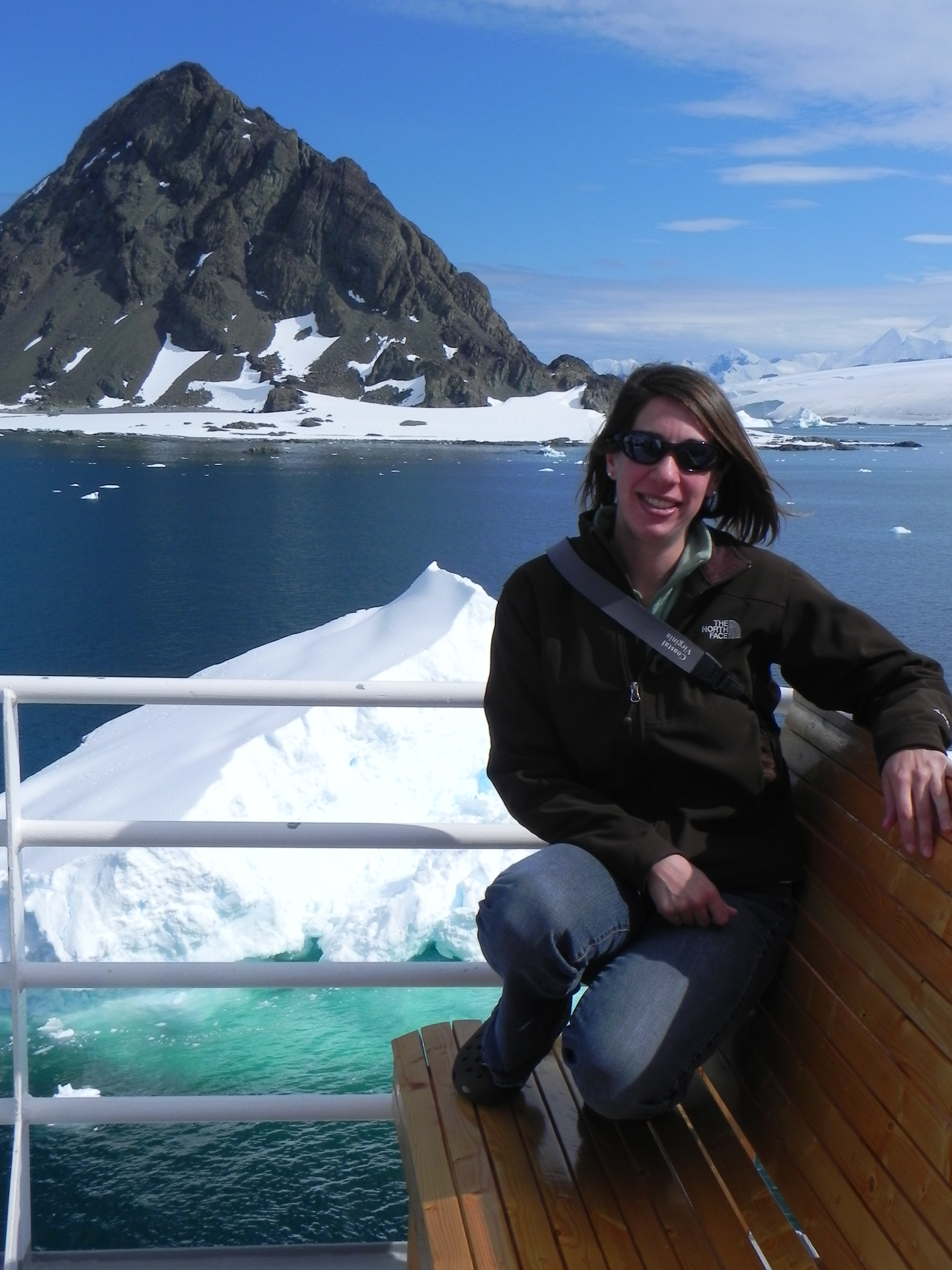 ___________________________________
Nov. 5th 2010: Visiting 4th Grade Classes at Gregory Elementary School.
Before leaving for my trip to the Antarctic I visited three, fourth grade classes at Gregory Elementary School in Wilmington, NC. I spent time with each class talking about my pending trip; we discussed what Antarctica will be like, where I will stay, and what types of penguins I will see. Students were able to hold penguin eggshells and feathers (collected during previous years) as well as touch a penguin skin from our museum collection. I had a great time answering all of their incredibly insightful questions. These students will be following along with this blog and sending me questions about penguins and Antarctica while I am on my research trip!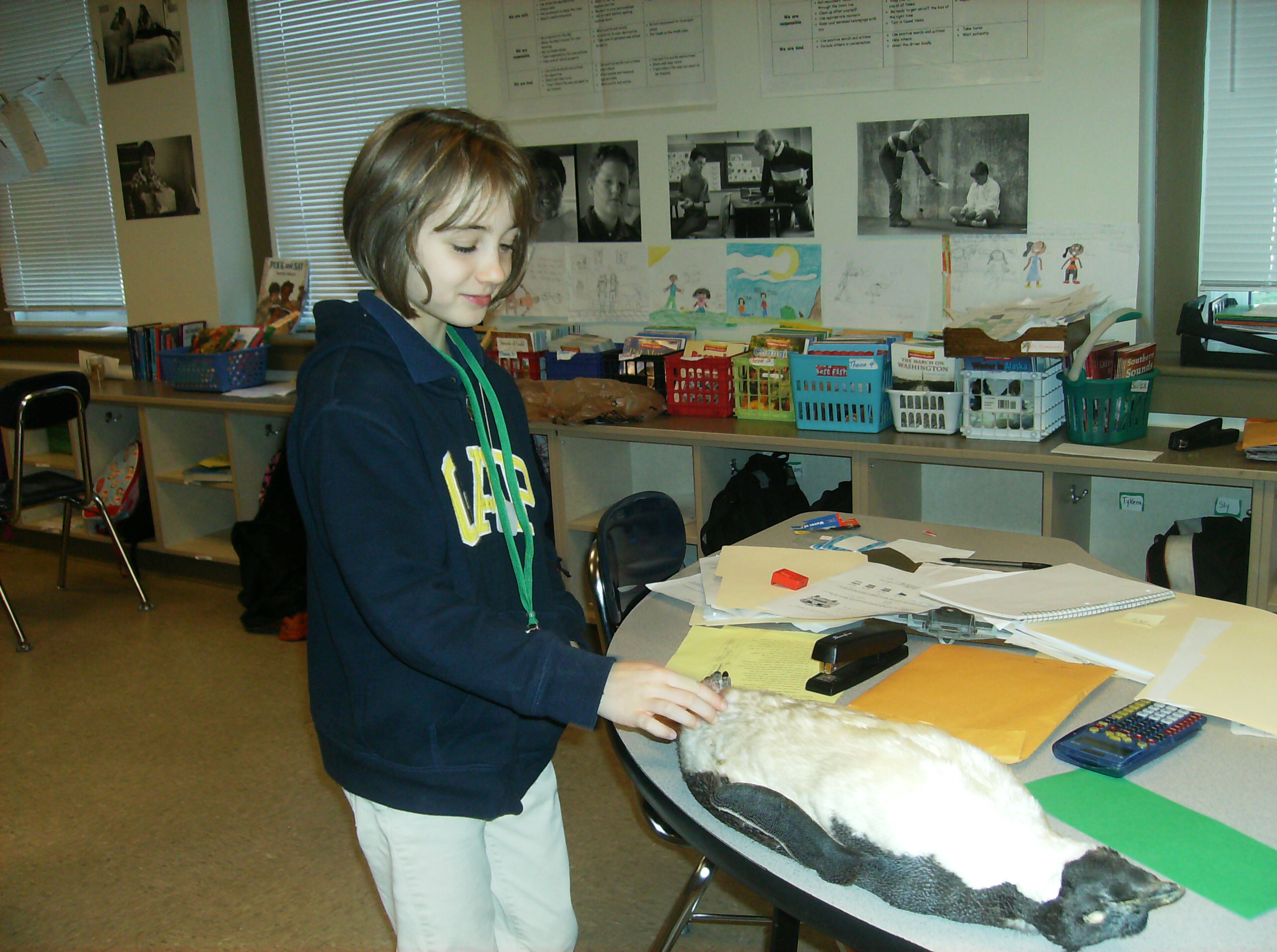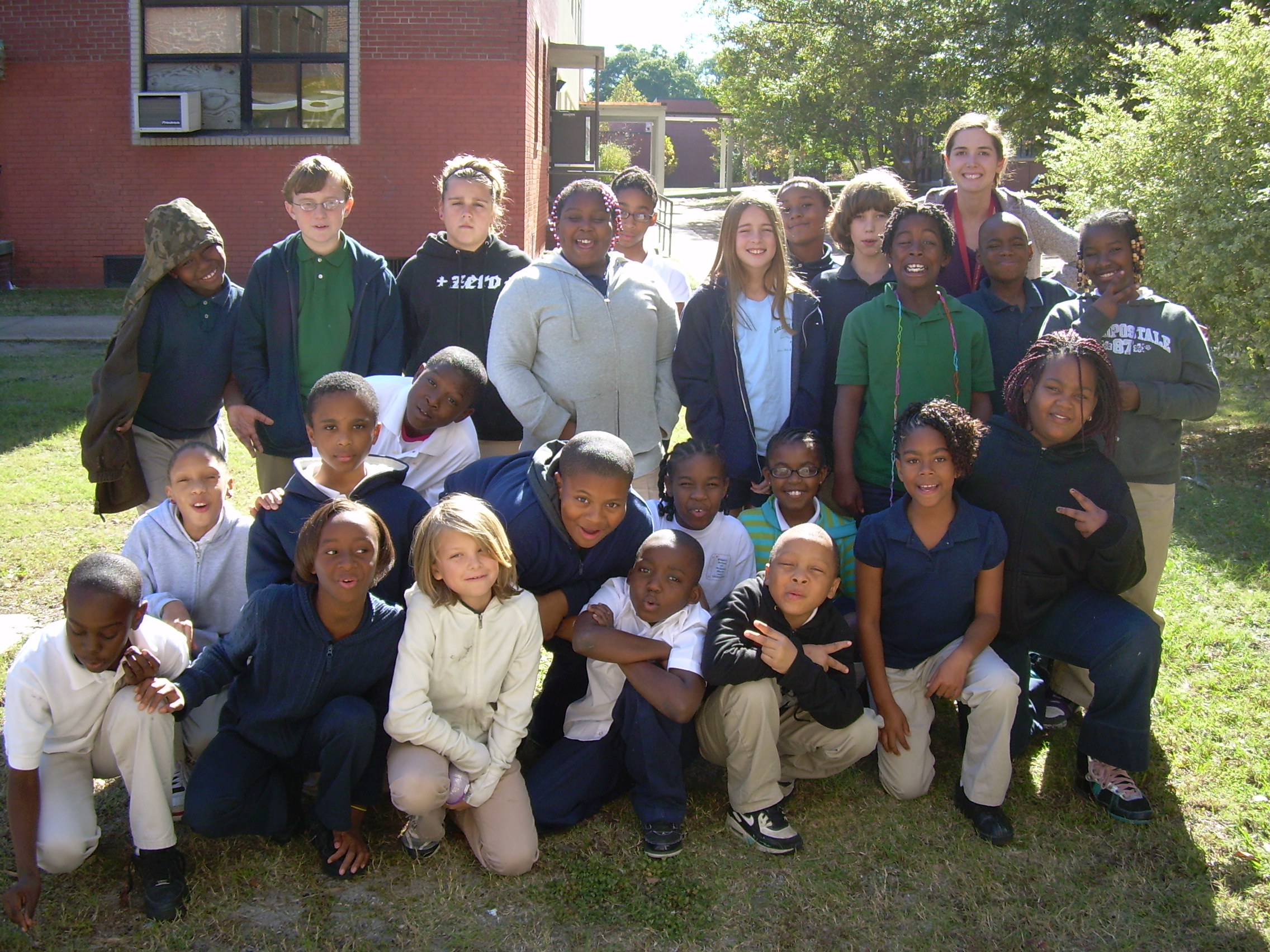 In addition to meeting with all of the students, I requested a small trinket from each class to bring with me to Antarctica. I will photograph each item in various locations as I travel...so keep a look out, you never know where they will pop up! Ms. Todd's class gave me a felt penguin, Ms. Lamar's class allowed me to borrow their very special magic wand, and Ms. Cowan's class sent along a class photo. All are packed!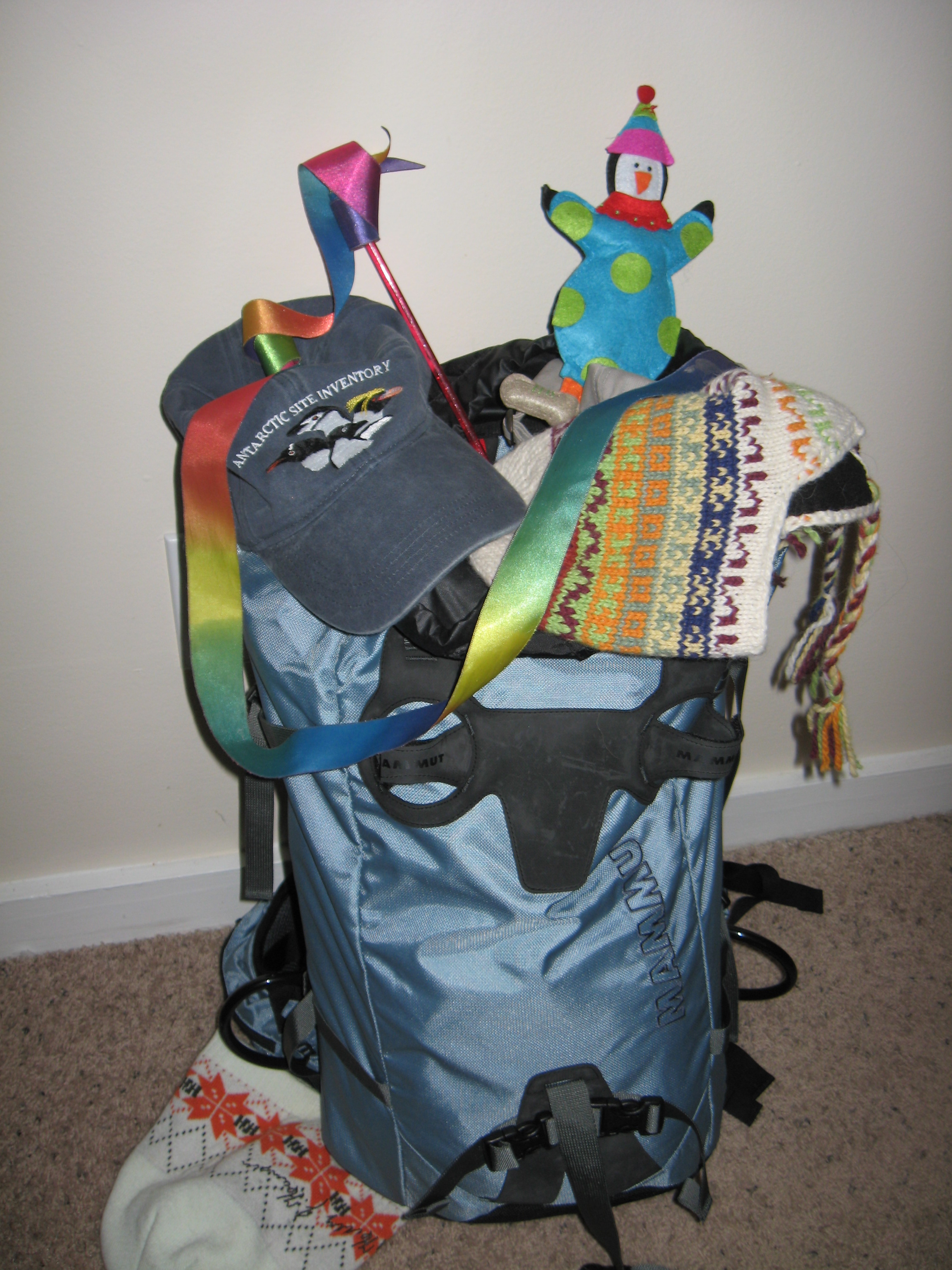 ___________________________________
Dec. 14, 2010: Ushuaia, Tierra del Fuego Argentina
I arrived in Ushuaia yesterday evening after a very long trip. I travelled from Baltimore, MD to Miami, FL then on to Buenos Aires, Argentina. From Buenos Aires, I took one more flight to Ushuaia in Tierra del Fuego. Overall, I was travelling for about 30 hours and was very happy to arrive. Ushuaia is called El Fin del Mundo (The End of the World) because it is often considered the southernmost city in the world. It is summer here in the southern hemisphere; it is light for most of the day, the sun does not set until after 11:00pm! One thing I find really interesting about Tierra del Fuego is the weather; it changes rapidly among sun, snow, rain, sleet, or some combination of the above—sometimes within minutes! The temperatures have been in the mid-40's for the most part, though the strong winds often make it feel much colder. I always have to wear lots of layers to be prepared for the changing weather.
While in Ushuaia I am staying at a small university called Centro Austral de Investigaciones Científicas (or, CADIC). I will be here until December 19th when I get on a ship to the Antarctic. I spent the day today wandering around the main streets of Ushuaia. There are many souvenir shops and restaurants in this area. I particularly like the chocolate shops and have spent a good amount of time there drinking my favorite café con leche (coffee with milk), which is always served with a small glass of sparkling water (I am not sure why). The street is filled with tourists from around the world; I have met people from Germany, England, France, Australia, several South American countries, and the United States. Ushuaia is a very busy port city where research vessels, cruise ships, and other industrial ships come in to pick up/deliver passengers or goods.
Tomorrow I will be heading to Isla Martillo to collect samples from Magellanic penguins, adios!
Port of Ushuaia; this is where I will get on a ship to Antarctica on Sunday.
View of downtown Ushuaia from CADIC at 10:00pm.
These special trinkets made it all of the way to the End of the World!
___________________________________
December 15, 2010: Pingünera, Isla Martillo
Today I visited the Magellanic penguin colony (called the pingünera) on Isla Martillo in Tierra del Fuego. Magellanic penguins are common in southern South America; they can be found along the coasts of Argentina and Chile, as well as in the Falkland Islands in the South Atlantic. They are the largest of the temperate breeding penguins. Magellanic penguins build nests by digging burrows in the dirt or hiding in dense vegetation, such as under a bush. Each pair has a burrow (nest) in which they will have up to two chicks. There are about 2,000-3,000 pairs of Magellanic penguins and 24 pairs of gentoo penguins on this island.
I visited Martillo with two other students from CADIC who helped me locate nests and handle the penguins. The nests were easy to find as they are heavily guarded by the male and/or female. When you get close to a nest, the adult waves its head from side to side in a threat display and then lets out a loud call that sounds similar to a donkey. It was a challenge to find eggshells because the chicks were already about 20 days old and the shell had already been discarded by adults or removed by predators. However, we were able to locate some eggshells and collect feather samples from adults and their chicks. Quite a successful day! I will use these feather and egg samples to determine how much mercury contamination the penguins are exposed to from the food they eat. The weather was fairly cooperative; it was cold to start, then warmed up significantly and we had to remove most of our layers of warm clothing. Overall, we spent a lot of time putting our jackets on and then taking them back off, very typical of Tierra del Fuego. The day ended with strong winds and rain blowing horizontally, I was glad we were on our way home at that point!
I really enjoyed my day on Isla Martillo, it is a truly beautiful place. I am very grateful for Ricky and Natalia from CADIC who spent their entire day helping me in the field. Tomorrow I will clean all of the samples and dry them to prepare them to carry back to the US next month. I am leaving for Antarctica on Sunday and am very excited!
Magellanic penguins dig burrows into the dirt to use as nests. As you can see here, the adults are often found guarding their young in the nest.
Ricky (an all around field expert from CADIC) holding a ~20 day old chick while I collect a feather sample. The chick went happily back into his nest once we were done and snuggled right back up with his mother.
Adult Magellanic penguin with two, 20 day old chicks.
_______________________________________
December 17, 2010: Parque Nacional de Tierra del Fuego: Short (flying) bird list
Today I went to the National Park here in Tierra del Fuego. I went hiking in search of the Magellanic woodpecker; sadly this bird eluded me all day. I saw trees full of drill holes, but no woodpeckers. Sigh. Though I have not spent a lot of time birding on my trip thus far, I have seen quite a few species and have listed them here for those of you interested:
Great grebe
Kelp gull
Dolphin gull (pictured)
Giant petrel
Brown skua
Rock cormorant
Upland goose (pictured)
Black faced ibis
Chimanga caracara
Southern crested caracara (pictured)
Black-necked swan
White-crowned elaenia
Rufous collared sparrow
Austral thrush
Thorn-tailed rayadito
Rufous-backed negrito
Shamefully, I forgot to pick up a bird guide for this area before leaving the US and haven't found a suitable one here. I would probably have more to put on this list if I had a book, but listing "another little brown bird" isn't as informative, haha. I will be boarding the National Geographic Explorer cruise ship tomorrow afternoon to head for the Antarctic Peninsula. I will post again as soon as I can!
Dolphin gull
Southern crested caracara
Upland goose (male = white, female = brown)
________________________________________
December 21, 2010: First day in Antarctica!
Today was my first landing in Antarctica! The ship officially crossed into Antarctica when we sailed across 60o south latitude (the Antarctic Convergence). The weather has been great, about 35oF and sunny to partly cloudy with a good amount of wind. We visited two sites to count penguins and collect eggshells today: Aitcho Island and Half Moon Island. Both of these islands are in the South Shetland Islands in the Antarctic Peninsula. Each morning, the ship anchors offshore and we take a zodiac, a small inflatable motorboat, to each island. We landed on Aitcho Island first thing this morning; Paula (my teammate with Oceanites—the group I work with counting penguins populations in the Antarctic Peninsula) and I started counting penguins straight away. We use hand-held clicker-counters to tally the number of penguin nests in each colony. At Aitcho Island we were counting gentoo and chinstrap penguins. We counted over 2,000 chinstrap penguin nests and weren't even able to count them all! Aitcho Island was very green, there are a lot of algae growing on this island and it was quite muddy.
In the afternoon we went to Half Moon Island. Half Moon Island had a lot of snow, in places it was quite deep and it was very tiring hiking through snow that came up to my knees. There, we counted chinstrap penguin nests as well. While counting penguin nests I also collected eggshells; I looked very carefully around the penguin colonies to find broken eggshells. At both sites today most of the penguins were still incubating their eggs. There were some chicks, but they were less than a week old. I also saw Weddell seals lying out on the beach.
While cruising between islands I saw two humpback whales, a female and her calf. They stayed with the boat for about 30 minutes. Working on the cruise ship is a very busy job, but I really love it. More from the Antarctic Peninsula and into the Weddell Sea tomorrow!
National Geographic Explorer (the ship I am on) as viewed from Aitcho Island, with a colony of gentoo penguins in the foreground.
Gentoo penguin colony of Aitcho Island
Chinstrap penguins at Half Moon Bay
_____________________________________________
December 22, 2010: Brown Bluff and the Weddell Sea
Once again the weather today was absolutely beautiful; the temperature was right around freezing all day, but with all of my layers and the amount of hiking I have been doing while counting penguins and collecting eggshells I am sweating in no time. I never thought I would say "I am SO hot" so many times while in the Antarctic!
Today we visited Brown Bluff to conduct counts at control colonies of Adélie and Gentoo penguins. In a control count, we walk around a group of penguins with a GPS unit to create an "outline" defining the shape of the colony and the birds in it. Then we count each nest inside of that outline. These controlled counts are then used to help determine the size of penguin colonies across the entire island using satellite images. At Brown Bluff there are probably over 20,000 Adélie penguin nests; we do not have time to count them all and the control count census, paired with remote satellite images provided by the British Antarctic Survey, make it possible to get accurate assessments of the size of each colony. When dropped off on an island, we generally have about three hours to make our counts before we have to return to the ship. This time goes by so quickly and we are always racing to get our work done.
There were a lot of chicks at Brown Bluff, of both Adélie and Gentoo penguins. The Gentoo chicks appeared to be between two and three weeks old already. Some were already toddling around their nests. The Adélie chicks were probably close to two weeks old as well.
The sun does not set here until about 2:30am and rises again by about 3:00am! As I am typing, it is almost midnight and the sun is slowly setting, it is the most beautiful thing I have ever seen. Neither words nor pictures could ever do it justice. The Captain of the ship spotted a juvenile Emperor penguin out on an ice berg about an hour ago and stopped the ship so we could all take a look. This is a pretty rare sighting and we all took advantage of seeing this bird despite freezing temperatures on deck.
Tomorrow we will make our way out of the Weddell Sea; I am sad to leave this beautiful place, but am happy to know I will be back through on my next cruise in the beginning on January. Tomorrow we will be going to Paulet Island to conduct more control counts; there are over 100,000 nests of Adélie penguins at this site!
Hello to Ms. Cowan, Ms. Todd, and Ms. Lamar's classes at Gregory Elementary School from the gentoo penguins on Brown Bluff.
Sleeping Gentoo penguin chicks
_____________________________________
December 25, 2010: Christmas in Antarctica
Merry Christmas! For the first time in many years I awoke to a white Christmas…pretty good odds here in Antarctica. We had our Christmas celebration on the ship last night; we had a special Christmas dinner and a Secret Santa gift exchange with all of the staff and crew of the ship. This morning we landed on Booth Island; this island is covered in deep, soft snow and is home to hundreds Gentoo penguins. Booth Island has been my favorite stop on this trip so far. The scenery is amazing; large icebergs in every shade of blue surround the island, floating pieces of ice serve as refuges for lounging seals. We saw Weddell and Crabeater seals while at Booth. Despite their name, Crabeater seals eat krill (just like penguins)--using with specialized teeth, not crabs!
After we finished counting penguin nests this morning, we offered the guests a chance to try their hand at counting penguins. It is harder than it looks! At this point in the season we are counting nests so at least we don't have to worry about counting a moving target. We gave each guest one of our clicker counters and had them count a colony of penguins. Later this evening we put up a list of all of the counts done by the guests along with their percent error (or the percent difference among the three counts that they made). Their error ranged from 0-27%; for our counts for Oceanites we must be within 5%, if our error is too high we have to re-count the colony. It is very important for us to get accurate counts in order to determine whether the penguin populations are changing.
Tomorrow is our last day in the Antarctic for this trip, we will be heading north towards Argentina tomorrow evening. I hope everyone has had a very Merry Christmas!
Caught in the act! A gentoo penguin stealing a pebble for his nest.
View of the National Geographic Explorer anchored off of Booth Island.
Ice flows surrounding Booth Island. There are even a few seals lounging in the bottom left side of the photo.
_____________________________________________
December 28, 2010 At sea…back to Ushuaia
Yesterday and today were both spent at sea. The Drake Passage was quite rough this passage with 12-14 foot swells. Many passengers, myself included, felt fairly seasick. Time spent at sea offers an opportunity to catch up on all of the data entry and eggshell cleaning that was set aside during our field work. It also presents a great opportunity for whale sightings. Guests with their cameras often crowd around the bow of the ship waiting to take that perfect photo of a humpback whale. We were also lucky enough to happen upon a lone juvenile emperor penguin. Emperor penguins do not breed in the Antarctic Peninsula; the breeding season of the emperor penguin is in winter while the brush-tailed penguins I study breed in the austral summer (which is right now).
I have had a fantastic time on my first trip to the Antarctic and I am thrilled that I am going back on my second trip tomorrow. Mike Polito will be joining me on this next trip; we will be spending a lot of time collecting eggshell and feather samples for our research.
A juvenile emperor penguin
Guests taking in the stunning views from the bow of the ship as we sail through the ice…always watching for seals and whales.
Penguin tracks
_________________________________________
January 3, 2010: A Day in the Life
In previous posts I have told you about the Antarctic and all of the wildlife I have seen and everyday it gets better and better. However, as I spend most of my day working I thought I would offer you insight into what it is like to conduct research on the ship on a daily basis. Mike Polito, another UNCW graduate student, has joined me on the ship this week and since we are working together all week we thought it would be fun to share our adventures!
Mike and I in front of the ship while it was anchored on shore fast ice….this was such a cool experience, to get off of the ship and walk on ice in the middle of the ocean!
As researchers aboard a tour ship we are lucky to be able to travel to a variety of sites within the Antarctic Peninsula. The Expedition Leader and the Captain of the ship chose which sites to visit on any day based on weather and ice conditions. Though it is the summer here in the Southern Hemisphere much of the winter ice surrounding the islands in the Peninsula remains. Each morning Mike and I wake up between 6:30 and 7:00am and head up to the bridge of the ship to check in. Once it is determined which sites we will visit we check our Antarctic Site Inventory database; this database contains information on which species are found on each island and what tasks need to be completed at each visit.
Once the ship has anchored, we travel by zodiac to each site to do our penguin nest counts and eggshell and feather collection. Mike and I collect feathers and eggshells that we find on the ground to use in our research on penguin diets and mercury contamination. It typically takes two to three hours to complete the surveys and collect samples. The afternoon is typically spent at sea, sailing to the next location in the Peninsula. We utilize this time to clean the eggshells that we collected in the morning. The eggshells and feathers we collect are often covered in penguin guano, algae, and mud and need to be cleaned and dried before we package them for shipping to back to the United States. Using electric toothbrushes, we clean the eggshells as best we can and place them in a room to dry overnight. Sometimes we are lucky enough to have guests on the ship help with the eggshell cleaning!
Mike and I spending the afternoon in the mud room cleaning eggs….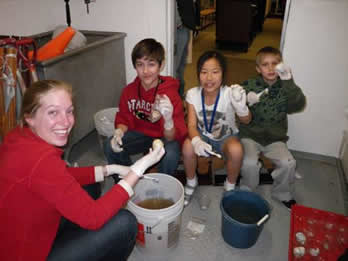 …but, it is even better when guests join in the fun!
Many days we will make a second landing later in the afternoon. We once again don our cold weather, waterproof gear and head back out to count penguin nests and collect more samples. On days where we make a late afternoon landing, we often arrive back on the ship just before the evening "recap" of the day's events. This means we scramble to change from penguin counting clothes into our nice clothes to talk to guests about what we accomplished in the field that day. Each evening we have dinner with the guests and spend time discussing our research and answering any questions they may have. Dinner usually ends around 9:00 or 9:30pm, after which we enter data into the computer and check in with the Expedition Leader and Captain to determine which sites we will be visiting the following day.
Whew! Though our days are long and often quite hectic I love what I do and would not trade it for any other job in the world. The Antarctic has captured my heart.
Picture of the clicker-counter used to keep track of the number of penguin nests in each colony.
_____________________________________
January 7, 2011: The End of My Second Voyage
Today we are sailing north again, back to port in Ushuaia. I have just completed my second tour on the National Geographic Explorer. This trip was much different from the first trip I was on; while the first trip took us to many sites within the Weddell Sea and the eastern Antarctic Peninsula, we spent most of our time during this past trip along the western Antarctic Peninsula. Mike and I were able to visit 11 Antarctic Site Inventory sites, including one new site. We collected eggshells and feathers at 8 sites making it a very successful trip!
Since I am at sea today I wanted to take this chance to answer a few questions sent to me by students in Ms. Lamar's 4th grade class at Gregory Elementary in Wilmington, NC.

Question #1 . Why are you studying mercury levels? Where does mercury come from? Is it poisonous to penguins? How much mercury can a penguin have before it is hurt? Mercury is one of the most common and most toxic contaminants present in marine environments today. While there are natural sources of mercury emissions, such as volcanic eruptions and wildfires, human activities have added significantly to global mercury emissions since the beginning of the industrial age. Today, coal burning accounts for approximately 45% of all human-related mercury emissions. Mercury is released into the atmosphere when fossil fuels are burned and it is easily transported around the globe to even the most remote environments, such as the Antarctic. Mercury from the atmosphere is deposited into the ocean where it bioaccumulates and biomagnifies through the food web. Biomagnifcation is the process through which mercury concentrations increase with each step up in the food web—organisms that feed at the highest trophic positions are likely at the highest risk of mercury toxicity. At high levels mercury is a neurotoxin in both humans and birds (such as penguins); it can cause developmental abnormalities, impair feeding and breeding behavior, and even cause mortality. However, reproduction is the most sensitive endpoint of mercury contamination and even very small quantities can lead to decreased egg production and hatching success in birds. At this point, we do not know how much mercury is tolerated by penguins before they start to show signs of mercury toxicity. My preliminary data suggests that the current level of mercury in brush-tailed penguins is likely too low to cause reproductive impairment or decreased survival. However, as the brush-tailed penguins in the Antarctic Peninsula are currently experiencing significant impacts of global climate change, any additional stressor such as mercury (even at low levels) may ultimately impact the viability of their populations.

Question #2. Do all species of penguins have two chicks? Of the penguin species found in the Antarctic, the Emperor and King penguins lay only one egg. The brush-tailed penguins (Adélie, Gentoo, and Chinstrap) that I study lay two eggs. During a good breeding season both eggs will hatch and both chicks will survive to crèche (the point in the season when the chicks are so big that both parents must leave the nest to feed them and all of the chicks in the colony group together for safety and warmth). However, in seasons of bad weather or lack of food only one of the two chicks may survive.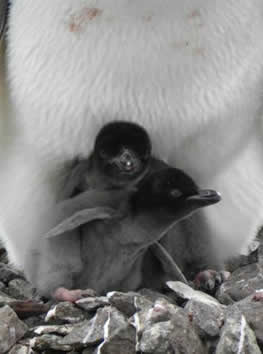 Two Adélie penguin chicks being brooded by their parent.
Question #3. Do baby penguins have fur or feathers?As penguins are birds, they have feathers that cover their entire bodies not fur like mammals. Penguin chicks are covered with soft feathers called down that does in fact look like fur, but it is a special kind of feather designed to keep the chicks warm. In some species of penguin (such as kings and emperors) the down on the chicks is brown. In the brush-tailed penguins the down covering the chicks ranges from black to grey to white depending on the species. It takes a lot of energy for chicks to grow in their adult plumage (the characteristic black and white feathers); they will grow quite fat throughout the summer to store up enough energy to grow in their adult feathers which are waterproof, unlike the down. Most birds have a layer of down feathers close to their skin. Each feather on a penguin has a bit of down at the part closest to the skin to trap warm air to protect the penguins from the Antarctic cold.
Fat and sleepy gentoo penguin chicks. These chicks are almost old enough to crèche (they are about 4 weeks old here), but will wait for the rest of the chicks in the colony to grow as large before they all group together.
____________________________________
January 11, 2011: Penguin chicks, elephant seals, and ice…oh my!
Today is the second day of my third voyage on the National Geographic Explorer. We made our first landing yesterday at Hannah Point on Livingston Island. This was a special treat as we do not often get to visit this site; in fact, the last penguin survey by Oceanites at Hannah Point was in 2005. The gentoo chicks at Hannah Point were already about 5 weeks old and were creching. There were also chinstrap penguins on this island, but they had chicks that were slightly younger. Hannah Point is very green and is home to both species of flowering plants found in the Antarctic (both are grass-like in appearance). There were also a number of elephant seals lounging on the beach; they are molting at this time of year and spend a good portion of the day sleeping and scratching.


Gentoo penguin chicks hanging out with an elephant seal.
Last night we began sailing south to the Weddell Sea; however, we were stopped this morning by significant ice build-up in the sea and had to change course. We are now heading over to the western Antarctic Peninsula and should be arriving in Lindblad Cove around dinner time. Lindblad Cove is a scenic stop on the trip surrounded by glaciers and ice flows; the cove itself was named after the father of the owner of our ship.

Some of the icebergs we encountered while sailing this morning, just before turning around.
Since I am once again spending at sea I wanted to take a chance to answer a few questions I received from Ms. Todd's class from Gregory Elementary School.
Question #1. How far into the ground are the penguin nests? I believe this question pertains to the photos of the Magellanic penguins that I posted in an earlier blog. Most of the Magellanic penguin burrows I saw on Isla Martillo were about 1-1.5 feet deep. Though they tend to dig shallow burrows, they may dig 3-4 feet back into the soil. Therefore the burrows they dig are not necessarily deep below the surface, but they do often extend back several feet. Some of the penguins hardly dug a burrow at all, just making an indentation in the ground in which to lay their eggs. It was pretty variable. In the Antarctic, the brush-tailed penguins build nests out of pebbles as you can see in this photo. The pebble nest raises the eggs and chicks up off of the ground so the eggs don't roll away or get wet during inclement weather.


Pebble nest of a Gentoo penguin.
Question #2: How many penguins did you count during the control count? During a count of a control colony we usually count smaller groups of penguins within extremely large colonies (over 5,000 nests). Each control colony I counted ranged from 20-50 nests; however, this can vary as there is no set number of nests that must be within a control colony. Most important is that the control colony is geographically separate from the other, larger colonies.
Question #3: Why were the penguins lined up at Half Moon Bay? No particular reason! I found this small group of chinstrap penguins all lined up and thought it would make for a good photo.
Please keep the great questions coming! I am excited to get off of the ship again tomorrow to visit one or two sites for more penguin censusing. Hopefully there won't be too much ice!
____________________________________
January 12-13, 2011 Land of the Midnight Sun
Early this morning we crossed the latitudinal parallel marking the Antarctic Circle (66 degrees 33 minutes south); with the heavy ice still lingering from the winter few other ships have ventured so far south this season. Upon crossing the Antarctic Circle we entered a world of near continuous daylight; at sunset the sun simply dips below the horizon before rising again within hours. You can see from this photo (taken near 12:30AM) why this area south of the Antarctic Circle is often called "the land of the midnight sun" during the austral summer. On mid-summer night (December 21) this area experiences 24 hours of continuous daylight; though I was aboard the Explorer on December 21st, we were not south of the Antarctic Circle on that day. While the sun glowed a deep orange, a few of us awaited the pink "alpenglow" that is often cast over snow covered mountains during these sunsets. However, as we waited out on deck in the cold for the sun to dip below the horizon, exhaustion from the day's activities began to set in and one by one we each said our goodnight's and retired to our cabins before the sun officially "set". After all, we needed our energy restored as tomorrow we would continue sailing even further south!
Sunset below the Antarctic Circle (around 12:30AM).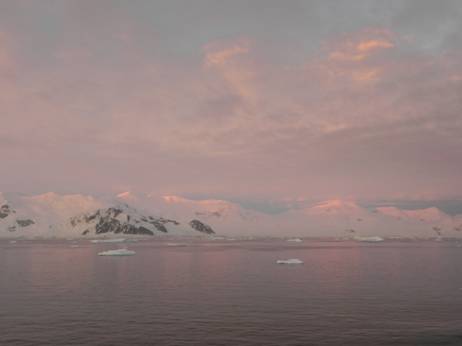 "Alpenglow" or the pinkish light cast over the snow covered mountains from the sunset in the photo above.
____________________________________
January 13, 2001 One extraordinary day

We spent the early part of the day travelling south through what is known as The Gullet, a narrow often ice-clogged passage on the western side of the Antarctic Peninsula. At one point the ship stopped for guests to take to the sea in zodiacs for a tour around the ice. I took this opportunity to clean eggshells, far less exciting than cruising through ice, but the work had to get done! Over the whir of my electric toothbrush (which I use to clean the eggshells) I heard a call over the radio that a very rare seal called a Ross Seal had been spotted on an ice flow. I immediately dropped what I was doing and ran to the bow of the ship to get a look. The Ross Seal is the rarest of the four species of seal breeding on the pack ice in the Antarctic. In fact, the Captain of the Explorer said he has only seen one Ross Seal in the twenty years he has been sailing in the Antarctic! Most unfortunately I did not have my camera with me out on the bow to get a photo, but I enjoyed just watching this seal and listening to all of the excitement from other staff members and guests.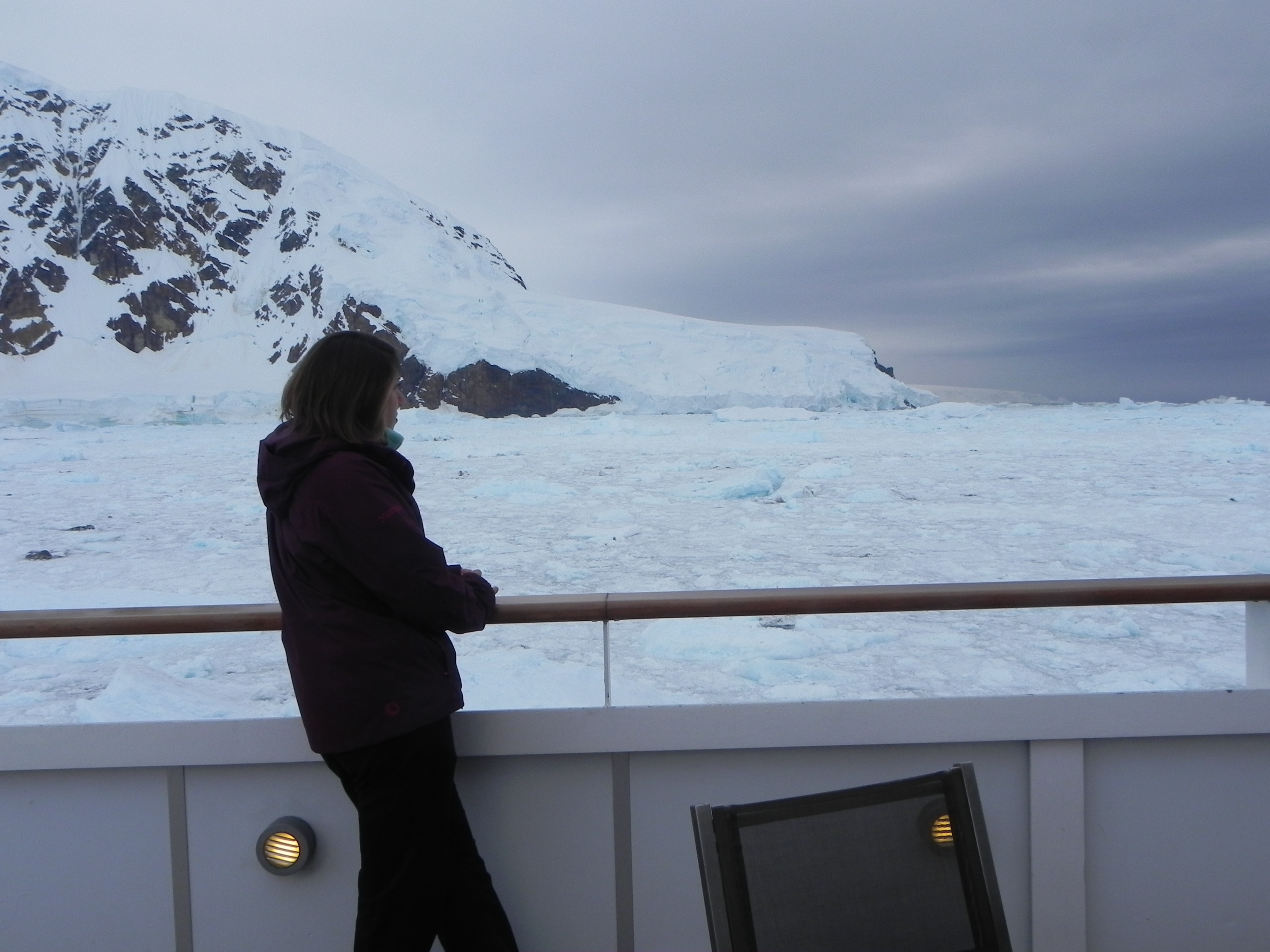 Watching as we made our way through the ice filled waters of The Gullet
Just when we thought the day couldn't get any better….killer whales—off of the bow! Travelling further south of the Antarctic Circle we were really getting into good killer whale habitat. The whales came very close to the ship; many guests were leaning over the railing to snap pictures of the whales swimming below the bow. This trip we were lucky to have two prominent killer whale researchers (John Durban and Bob Pittman) on board. Once the whales were spotted and photographed, Bob and John took off from the ship in a zodiac to approach the whales more closely in order to place satellite tracking tags onto a few individuals. Such an amazing sight to see! Bob and John used crossbows to attach the tags to the dorsal fin of the killer whale (this does not hurt or cause any harm to the whale—in fact they don't even notice). There were a few near misses as the whales circled the small zodiac; however, once the tag was successfully attached a roaring cheer was let out by all of us on board!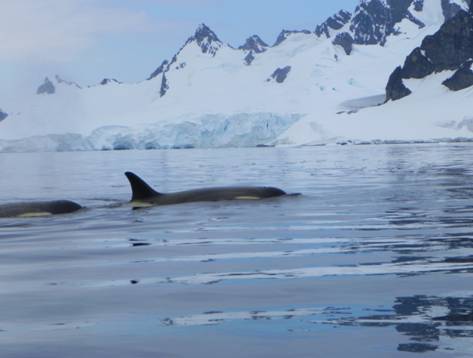 Killer whales!
One of the great things about working off of the National Geographic Explorer is the opportunity to travel with other researchers. It was amazing to watch Bob and John conduct their field work and chase after their ever-moving targets. While my study species, the brush-tailed penguins, are extremely abundant and are present in the same locations year after year, the whale researchers have a very different experience. Whales are not nearly as numerous as penguins and you can never quite predict where they will show up; this made for endless hours of scanning the ocean with binoculars for Bob and John in order to tag a few individuals. Once the satellite tags were successfully placed on 5-6 individuals, their movements can be tracked online which allows researchers (like Bob and John) to know where the whales are moving for the next few months.

This wonderful day ended with a late evening stop at historic Pourquoi Pas Island which is home to approximately 1,000 nesting pairs of Adélie penguins. Mike and I had visited this island during the previous trip to count nests and upon returning this evening I found complete penguin chaos! The chicks were so large that we couldn't even see nests anymore; the air was filled with the boisterous calls of adults calling to their mates and chicks calling to their parents for food. I attempted to count chicks at this colony, but my efforts were made in vain as the birds were simply moving about too much to get an accurate count. As it was 10:15PM at the southernmost extent of our trip I put away my clicker-counter and decided to join the guests in taking photos of this scenic spot in the light of the setting sun.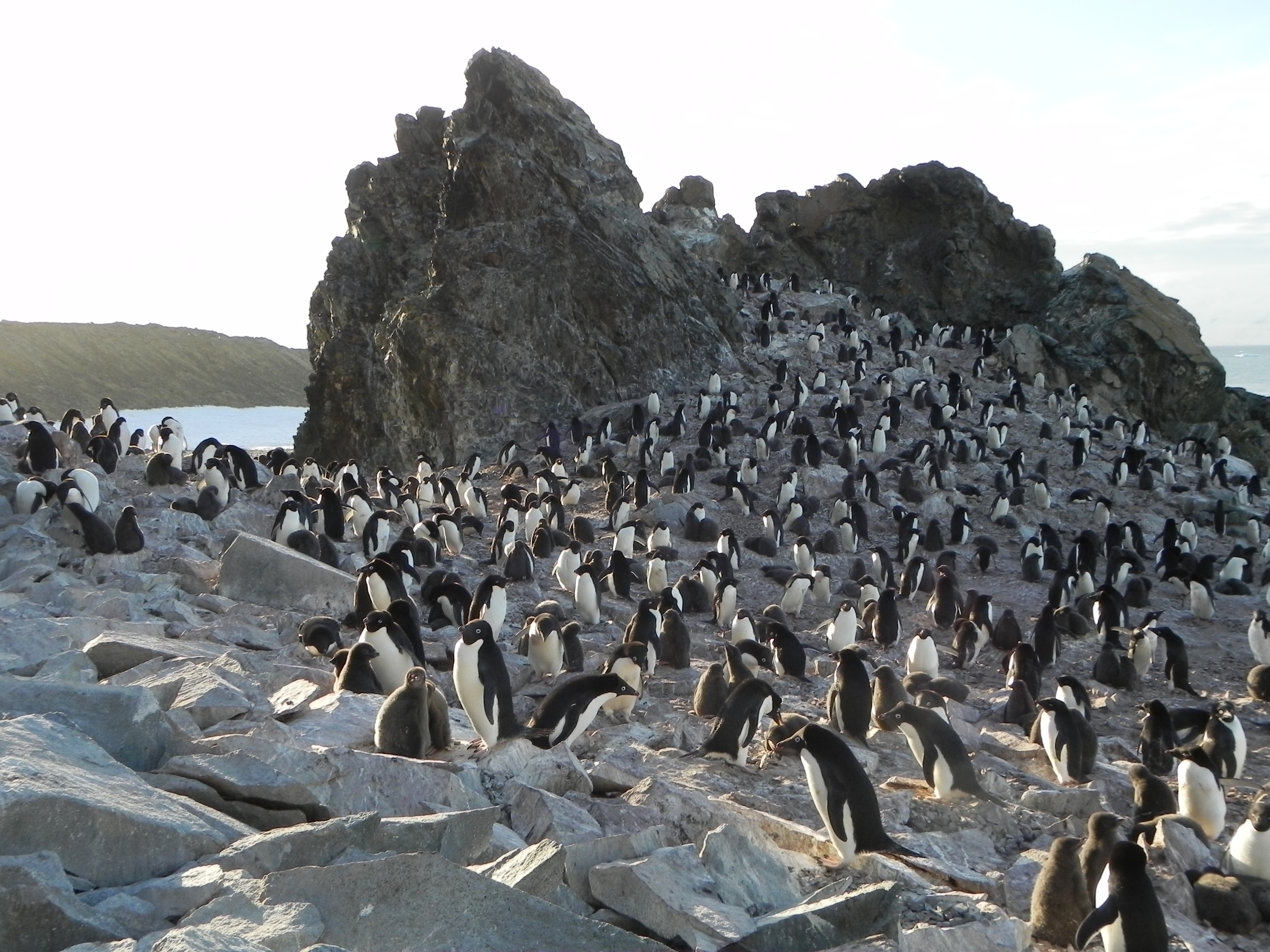 Adelie penguins at Pourquoi Pas Island. The adults are black and white while the chicks are covered in solid gray down.
____________________________________
January 14, 2011 Black and white and blue all over

Today we continued our travels below the Antarctic Circle into the Crystal Sound. Travelling south of the Antarctic Circle has certainly been a highlight for me on this journey; an area that at I originally thought would be harsh, cold, and gray has turned out to be one of the most visually stunning places I have seen. I believe the key to the beauty of this area lies in the contrasts--this becoming most apparent to me when we anchored at Detaille Island. Detaille Island is a fairly common stop for tour ships as it is home to a British weather station (Camp W) which was abandoned in 1959. Camp W was established in 1956, only to be rapidly abandoned three years later due to threat of unstable sea-ice and lack of supplies. The men living at Camp W were ordered to leave the station with only what they could carry on their backs; thus, on the inside, the station looks as it did on that day in 1959--food, clothes, maps, and tools strewn about as if the men living there simply disappeared into thin air.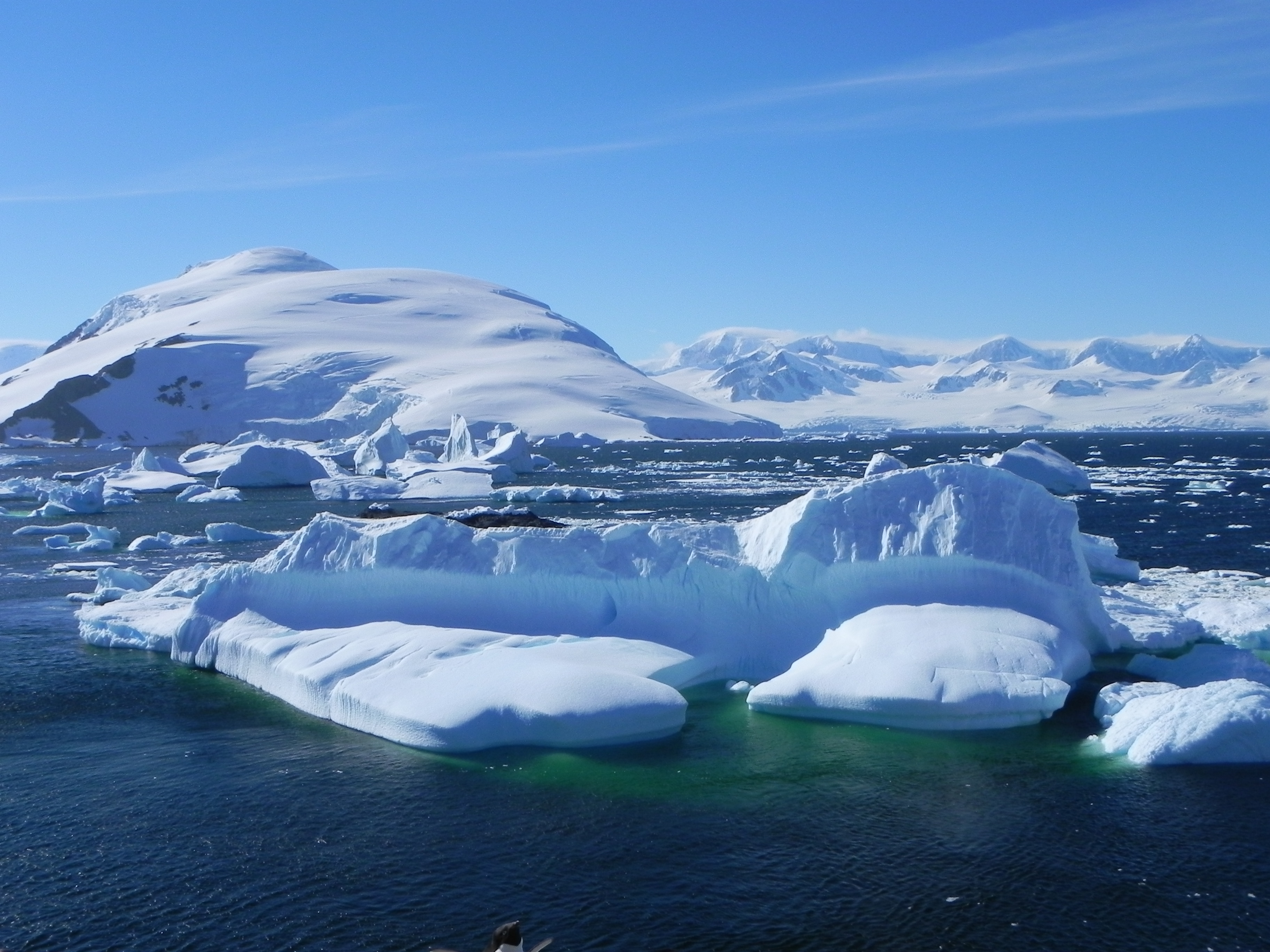 Ice surrounding Detaille Island
After a brief tour through the building, it was time to count penguins! The penguin colonies at this site were a bit difficult to access as they were high up on a separate small island. We took a zodiac ride over to the island and scaled the rocky slope to reach the colonies. What a reward was in store! The view from the top was absolutely breath-taking. Extremely windy, but breathtaking. This is where I gained a full appreciation for all of the colors the ice has to offer; white and blue gave way to turquoise and green. Adélie penguins were a picturesque species to inhabit this island as their solid black backs and white bellies popped against the cerulean of the sea below. As there were only a few hundred nesting pairs on this island we were able to count fairly quickly and I took the remaining time to enjoy the view….and take a lot of pictures!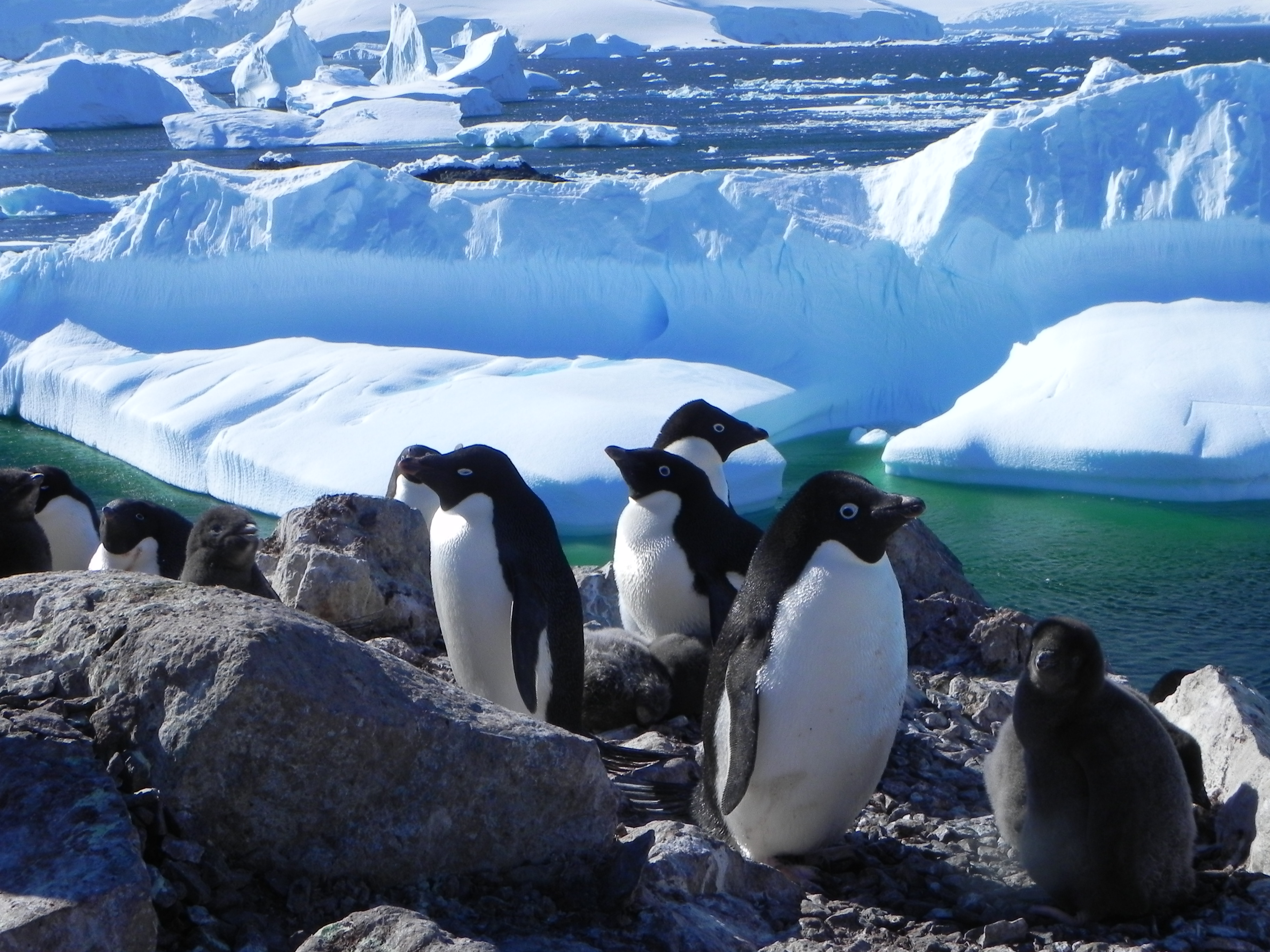 Adelie penguins at Detaille Island


____________________________________
January 17, 2011 The End of an Epic Journey South

Today we sailed north through the Drake Passage on our way to Ushuaia; the third and final return to port for me this season. The Drake Passage was quite calm throughout the day and we even made a stop just off of Isla Diego Ramirez, the southernmost inhabited island in the Americas. This small group of islands is home to thousands of nesting albatross, Rockhopper penguins, and fur seals. About 56 miles south of Cape Horn, Diego Ramirez has a very small outpost maintained by the Chilean Navy (thus it is considered "inhabited" by the few sailors who live in the small field house there). This is a site rarely visited by touring ships and so we considered ourselves very lucky!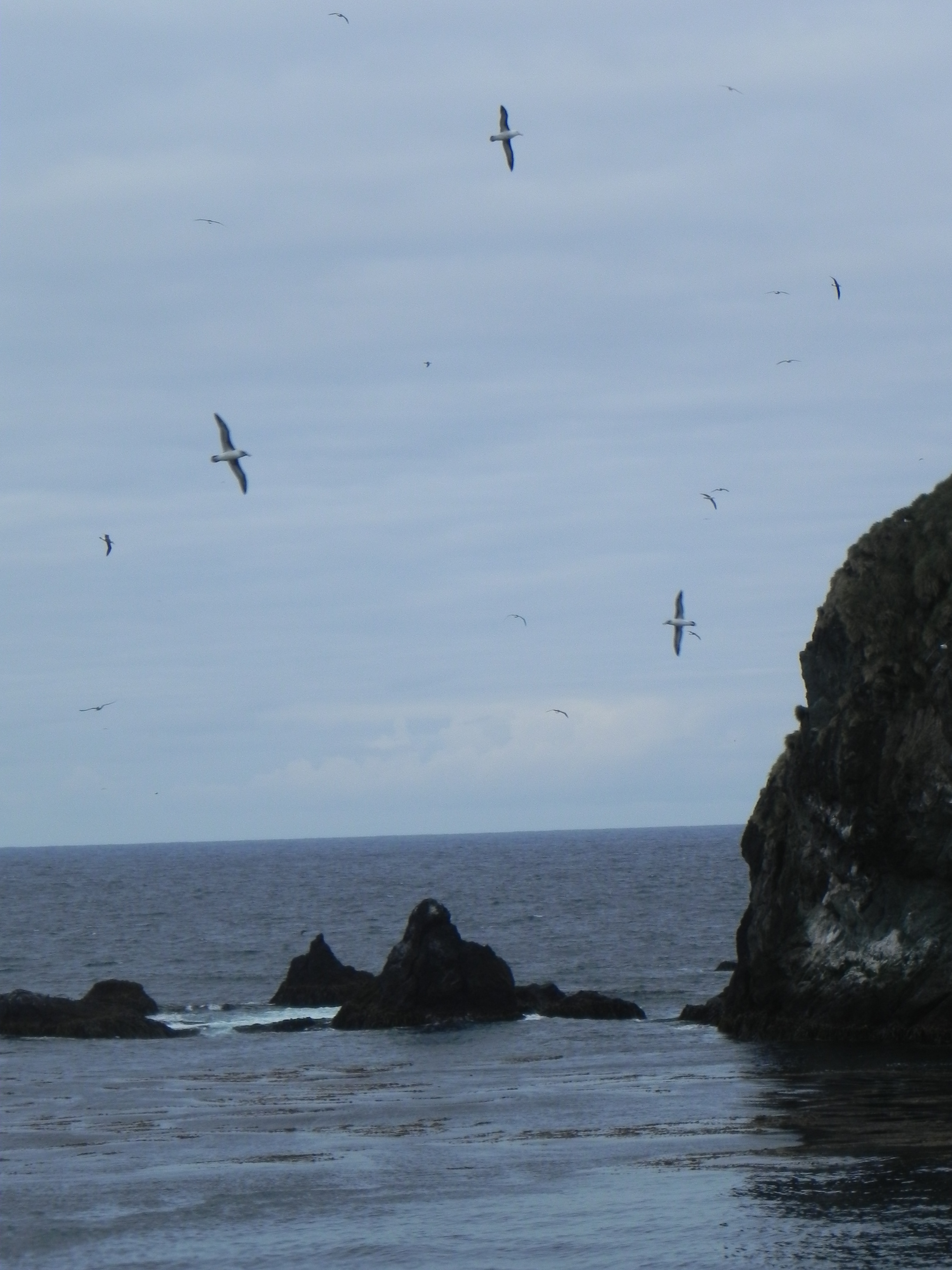 Albatross were seen by the thousands here at Diego Ramirez; these birds have the largest wingspan of any bird in the world. Though they look small in this photo, the wandering albatross has a wingspan of 12 feet!
We continued sailing throughout the afternoon, back through the Beagle Channel, reaching port in Ushuaia just after dinner. That evening a certain stillness settled over ship; many of us were found behind closed doors, silently packing our belongings in preparation for the long journey home. For me, I was leaving my austral summer "home"; having been on board for the past month I shared so many experiences with my ship family. Christmas morning and New Years Eve, penguin antics and whale sightings, the excitement of crushing through the ice while enjoying a hot cup of cocoa—sharing in the very best that our Earth has to offer one with exploration in their heart.
____________________________________
January 18-19, 2011 3 countries, 28 hours, and one blog post later…I'm home!

This morning I began the loooooong journey back to the United States. I left Ushuaia in Tierra del Fuego, Argentina at 12:00PM on January 18th. I flew to Santiago, Chile with all of the guests that were on board the Explorer to catch my flight back to the United States. We arrived in Santiago around 5:00PM and I had to wait until almost 11:00PM to catch my next flight, quite a long layover. From Chile I flew to Miami, Florida. I arrived in Miami at 4:30AM on January 19th. I had another long layover in Miami as my flight to Baltimore, Maryland was not until 12:00PM (I flew up to Maryland to visit with my family before returning to Wilmington). I finally landed in Maryland at 3:30PM on January 19th, almost 28 hours after leaving Ushuaia. It was a long trip returning home from the end of the world!
Since I had a lot of time in the airport I wanted to answer a few more questions sent to me by Ms. Todd's class from Gregory Elementary:

Question #1: How many elephant seals do you normally see? During this time of year elephant seals are abundant in certain locations due to their need to be on land to molt (replace last year's fur with a brand new coat). Elephant seals haul up out of the water onto beaches in order to molt; there are certain islands that have what we call 'elephant seal wallows'. Thus, I only saw elephant seals up on land, not on ice or in the water. Wallows are predictable places where a large number of elephant seals gather every year to molt their fur, a process which is very itchy and makes them quite cranky. An elephant seal wallow is a site (and smell!) to behold—loud belching and grunting from crowded seals partnered with an intense odor. The smell of an elephant seal wallow certainly overtakes the acrid smell of a penguin colony. On the islands I visited with elephant seal wallows I saw anywhere from 10-50 seals; however, some places may have many more individuals (over 100) and others fewer.

Elephant seal wallow (near a gentoo penguin colony)
Question #2: Do the elephant seals try to eat the penguins? Southern elephant seals primarily feed on large fish and squid; however, they may occasionally eat a penguin in the water. Elephant seals do not pose a threat to penguins on land (expect for squishing nests if they move through a colony—males can weigh up to 4 tons!).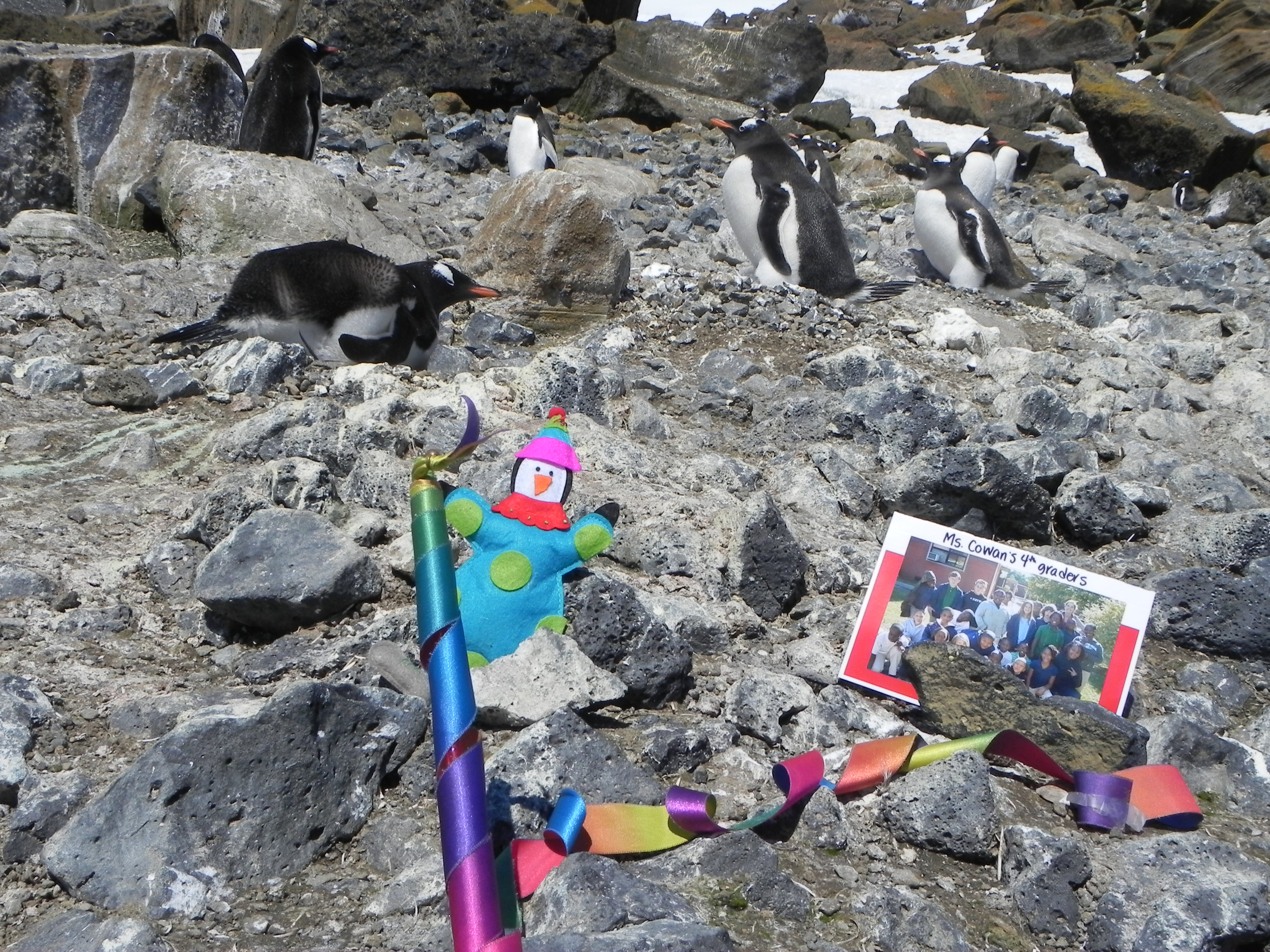 The trinkets provided to me by the 4th graders at Gregory Elementary School in Wilmington, NC made the entire journey. These items were always in my backpack and visited each island in the Antarctic Peninsula where I counted penguins and collected samples.
____________________________________
February 9, 2011 Final questions from Ms. Todd's 4th grade class at Gregory Elementary School

When asked if they had any final questions about my trip, Ms. Todd's class from Gregory Elementary School in Wilmington, NC wrote:

Question #1: Do penguins swim around killer whales? Penguins do not typically make a habit of swimming with or among killer whales. There are some killer whales in Antarctica that do eat penguins, therefore penguins are more likely to keep their distance.


Killer whale chasing a gentoo penguin

Photo: Justin Hoffman, Naturalist, National Geographic Explorer (http://www.expeditions.com/DER_Details113.asp?MainDER=151716&DailyReport=151609&SearchSource=Main&Ship=26)

Question #2: How many types of seals are in Antarctica? There are 6 species of seal that can be found south of the Antarctic Convergence (crabeater, fur, leopard, southern elephant, Weddell, and Ross). I was lucky enough to see all 6 during my travels. Most of the seals feed primarily on krill, fish, and/or squid. However, the leopard seal will also eat penguins and other, smaller seals. The most common are the crabeater seals; though their range is only south of the Antarctic Convergence, they are likely the most abundant seal in the world with population estimates of over 30 million individuals! The Ross seal is the rarest of all of the Antarctic seals with population estimates of about 200,000 individuals; however, the true population size is unknown mostly due to the inaccessibility of their preferred habitat in the heavy pack ice.

Leopard Seal

Question #3: How did the Ross seal get its name? The Ross seal is named after the British explorer Sir James Ross who was the first to discover this species in 1840. Sir James Ross also has a sea named after him in southern Antarctica, the Ross Sea.

Question #4: Do Ross seals eat penguins? It is believed that Ross seals primarily feed on squid. It is thought that they also eat fish and krill when squid are less abundant. Therefore as far we know, penguins are safe from the Ross seal!
I am so happy to have had such a great group of students following my travels to Antarctica. This was my first, of hopefully many, trips to the Great White Continent and I was thrilled to share this experience with such inquisitive students! Thank you Ms. Todd's class!
____________________________________