Dr. Emslie's
Antarctic Research Blog 2012
Follow along with Dr. Emslie as he travels to the Southern Ross Sea in Antarctica to study penguins, both past and present. Posts are in chronological order from the top.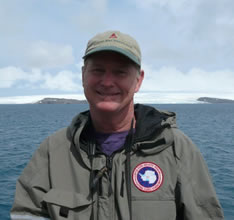 _____________________________________
29 December 2011
I will be leaving for Antarctica on this date, flying first to New Zealand and then to McMurdo Station, Ross Sea, on 1 January 2012. Two team members, Jurek Smykla, a Polish botanist, and Larry Coats, a geologist from the University of Utah and my mountaineer/first-aider at remote field camps, will be flying with me. One other team member is from China, Tao Huang, and is part of our collaborative research program with the Chinese National Antarctic Program and the Institute of Polar Environment, University of Science & Technology, Hefei. We will be visiting a number of active and abandoned Adélie Penguin colonies in the Ross Sea region. Some of the abandoned sites can date as old as 5000-7000 years, so we hope to recover many samples of penguin bones and tissues for stable isotope and DNA analyses. I will update this blog after I arrive at McMurdo.
_______________________________
3 January 2012
We are now at McMurdo Station after several days of long flights. As mentioned in my first post, we left the U.S. on Thursday afternoon, 29 Dec., from Los Angeles to Christchurch, New Zealand. We had a full day to rest in Christchurch before taking our evening flight (that actually did not leave until midnight) to Antarctica on 1 Jan. These flights to McMurdo Station used to leave early in the morning and arrived at the station mid afternoon (the flight is about six hours). However, recent warming trends have caused the ice runway (the airstrip here is on a flat ice shelf near the station) to be too soft for safe landings during the day in the middle of the austral summer. The night flights result in early morning arrivals when there is still a hard-frozen surface for the landing.
In Christchurch, we were able to visit the downtown area that was heavily damaged in an earthquake on 22 Feb. 2011. Many older buildings and churches collapsed and a several square block area in the center of town is still closed. Once busy streets are now deserted and many of the businesses either closed out or moved to the suburbs. It will be a long time before this city can recover completely from this event and earthquakes and aftershocks are still being felt. In fact, there was a quake right before we arrived but we didn't experience any aftershocks during our brief stay.
These deserted streets in central Christchurch were once packed with people in summer.
The steeple fell from this church during the earthquake on 22 Feb. 2011.
Damaged building in Christchurch
Once arriving at McMurdo Station we immediately began getting settled in rooms, attending meetings, and preparing for field work which I hope will begin later this week. We can access sites in the Ross Island area by short helicopter flights, so our field work will begin with just day trips out to various locations nearby. By next week, we will travel farther afield for 2-3 days of camping. I will post updates as the work progresses.
Landing at the ice airstrip at McMurdo, team member Larry Coats is excited to be back!
___________________________________
8 January
After arriving at McMurdo Station last Monday, we have been busy preparing for field work, gathering supplies in our lab space, completing necessary training courses, and other activities. There is much to do before one can actually go in the field. Tao had to complete 'snow school' where he was trained in outdoor survival and how to cope with the cold conditions. He spent a night camping out to complete that training. The rest of us had completed this training in a previous year, so only needed a 'refresher' course for half a day to review all the survival skills. Once these courses were completed, we scheduled our first field trip to Cape Royds, on the coast just to the north from McMurdo.
We flew by helicopter to Cape Royds on 6 January. There is an active penguin colony there that is being monitored by seabird biologist Dr. David Ainley who I have known and worked with since the late 1980s. He met us at the helo pad and then we walked over to the colony to collect some small sediment samples. Although I had been here before, it was great to be back!
The Adélie Penguin colony at Cape Royds, Ross Island.
After lunch, we hiked farther up the coast to visit a series of abandoned penguin colonies that I had found in a previous season. Two years ago I had sampled one of these sites and it turned out to be the oldest site on Ross Island at about 3000 years old. So, I wanted to sample more sites to confirm their ages for this older occupation.
The sites consist of a series of small pebble concentrations located above a beach access point for the penguins. All of the sites are fairly shallow, only 10-15 cm deep, indicating a rather brief occupation in the past. I found two sites to sample and did so by scraping up the sediments and screening them in two nested screens to make it easy to recover any bone, feather, or tissue preserved in the soil. I did find these tissues, so was able to collect samples for additional radiocarbon dating.
Sampling ancient penguin tissues from sediments at an abandoned colony. Note the reddish tint to the soil, stained from krill in penguin guano.
Tao Huang collects a small sediment sample from an abandoned penguin colony at Cape Royds.
After this sampling was completed, Larry and I hiked farther to the north to relocate some sites I had recorded in 2005. We soon found them by tracking the GPS coordinates I took at that time. These sites are much younger in age at about 600-800 years old. While we were doing this survey, Tao and Jurek were also collecting samples of sediments and lichens in the area for their research. It was a very productive day, particularly because the weather was nice the entire day.
We returned to the active penguin colony by 1630 where we had time to visit the historic hut built there in 1908 by Ernest Shackleton during his 1907/1908 polar expedition. It is in excellent condition thanks to the careful restoration by the New Zealand Antarctic Heritage Trust. When you enter the hut, it is like going back in time over 100 years ago—all their canned food, clothing, utensils, and other supplies and personal items are still in the hut. The constant cold conditions here keep everything well preserved.

Shackleton's hut at Cape Royds with boxes of supplies still stored as they stacked them outside the hut in 1908.
Inside the hut, where all items have been restored to their original position by the New Zealand Antarctic Heritage Trust
By 1800 our helicopter had arrived and we returned to McMurdo Station, only a 20 minute flight away. Now we are working in the lab again and waiting to go on another field excursion, this time to the Scott Coast across the southern Ross Sea from Ross Island. If weather holds, we should be able to start work over there on Tuesday and I will update our progress later in the week.
____________________________________
15 January
After we completed our field work at Cape Royds described in my last posting, we were stuck at McMurdo Station due to weather. The following days were either too snowy or too foggy with low clouds to give the helicopters enough visibility to fly. So, we worked in the lab and waited. Finally, on Friday and Saturday (13 and 14 January) we had nice weather and we were able to get out and work in the field. On Friday, we flew to a new location for us: Cape Geology on the Scott Coast about 90 km from McMurdo. We flew for about 30 minutes over the sea ice to the west until we reached the continental coast, then flew north to Botany Bay and the location of this ice-free area. It was a beautiful day at Cape Geology, sunny and 'warm' by Antarctic standards.
Cape Geology on our approach from the air.
Our landing site at Cape Geology, just outside the ASPA.
Cape Geology is a protected area in Antarctica, a designated ASPA or Antarctic Specially Protected Area. It is recognized primarily for its geology and plant life where over 30 species of lichens have been identified. The area was first discovered and studied by geologists with Robert F. Scott's 1911-1912 expedition and a group of four men camped here in January 1912, exactly 100 years ago on the day we visited the site. They left a small stone 'kitchen' they built among the large boulders on the beach as part of their camp and it is still mostly intact today.
A moss bed at Cape Geology.
Granite House, the stone 'kitchen' built by Scott's men in 1912.
Granite House inside view. Note the remnants of the seal skin roof in foreground
We surveyed the lower beaches in the ASPA for any abandoned penguin colonies, but did not find any here. We also hiked to the first terrace above the beach, but still no luck. Regardless, it was worth the visit to check for sites and also to see this unique place.
On Saturday, we flew to Cape Spike, also on the Scott Coast. This cape consists of two small hills jutting out from the coast and both are pretty barren except for some nesting South Polar Skuas. I did manage to find three small pebble areas that I confirmed as abandoned penguin colonies from the reddish color to the soil and the presence of penguin bones and feathers. The sites appeared quite old as the soil was very dry and powdery; however, you could still smell the guano preserved there even though these sites are probably at least 4000 years old. I excavated a small section in two of the sites, enough to recover some bones and feathers for radiocarbon dating and other analyses. The sites were very shallow, less than 15 cm deep, indicating a fairly brief occupation by penguins in the past. Since the cape is now surrounded by sea ice, these former colonies indicate that open water was once present in the past, allowing the penguins access to these sites. I'm anxious to get the material dated so we'll know how this occupation fits in with others we've dated in this region.
Areal view of Cape Spike. The connection to the coast is not complete.
A pebble concentration on Spike Cape, evidence for an abandoned penguin colony.
Excavating one of the pebble areas on Cape Spike.
Next we boarded the helo and hopped over to the continental coast as there is about 30 feet of open water between the cape and the coast. Here we had a large area to survey stretching about 3 km to the south. We hiked along a raised beach to the north first, until we reached the front of the Wilson Piedmont Glacier. We had nice views here of the glacier and a meltwater lake next to it. I could also identify at least eight raised beaches here, each one representing a former sea level in the past. We hiked up to one of the highest beaches and looked for old pebble areas there, but there were none. Larry and I also hiked half way to Kolich Point to the south along some of the lower raised beaches, but again found no sites. Larry found a mummified carcass of a crabeater seal, though. It's not uncommon to find these in this area.
The beach opposite of Spike Cape.
A mummified crabeater seal on the beach on Cape Spike.
We returned to the pickup point by 1500 and left when the helo arrived. We arrived back on station by 1600, a good long day in the field. Today we have a day of rest, then we will head to Cape Bird for three days tomorrow. There is a hut there used by New Zealand scientists studying the penguin colony and we will share that facility with them during our visit. I will post again after we return from that trip.
Here I am standing at the front of the Wilson Piedmont Glacier.
_______________________________________________
22 January
More bad weather kept us at the station for much of the week. We were trying to get to Cape Bird to camp for several nights, but each day clouds persisted around this cape making it impossible for helicopters to access that area. So, we waited but finally started going on day trips to alternate sites as we were losing time left in this season.
Our first day trip occurred on Wednesday and we went to Dunlop Island on the Scott Coast. This is a small, triangular flat island very close to the coast, but it has several raised beaches on it. The highest one in the middle has a series of old penguin sites as recognized by the dense scatter of small pebbles at each one. I began to map these sites with GPS while Tao and Jurek went off to collect sediment and plant samples. After mapping the sites, Larry and I completed more surveys of the entire island. No additional penguin sites were found, but I did come across an old 1950s food cache, probably left here by the U.S. Navy when they started to work in this area at that time. McMurdo Station, in fact, was originally a U.S. Navy base before being turned over to the U. S. Antarctic Program. It was interesting to see this remnant of that period still here and preserved quite well.
Aerial view of Dunlop Island from the helicopter.
A raised beach at Dunlop Island with abandoned penguin colonies.
The food cache at Dunlop Island. The smaller boxes were once inside a larger box, now mostly gone, with rocks placed on top that have since fallen off. Skuas had scattered some of the spilled food.
A closer view of the food boxes and one of the cans inside. We found the 'no refrigeration required' label a bit amusing.
Friday we were dropped at Marble Point on the Scott Coast. I had sampled here in previous years and there are abandoned penguin colonies only (no active sites) on the beaches and terraces that date from 4000 to 2000 yrs old. I relocated and mapped these sites plus found two others I had not seen before. Tao and Jurek went to collect samples while Larry and I hiked the beaches and terraces to the north and south of the point to look for other sites. None were found again, but the weather was calm and sunny so it was a great day to be outside. We found some interesting geological features too, including some nice ventifacts, or rocks carved in weird shapes from sand and scouring winds, and a glacially polished boulder. At the end of the day, Tao pulled out a banner he brought along to take photos and commemorate our work together this season.
A view looking out toward the tip of Marble Point. Note the curved ridge lines that are raised beaches. Abandoned penguin sites are on the third beach from the left.
A ventifact, or rock carved by scouring winds, and a glacially polished rock being photographed by Larry at Marble Point.
Tao and I hold a banner at Marble Point that he brought to commemorate our collaboration this season.
The next day we gave up on reaching Cape Bird and flew instead to Cape Roberts, farther north on the Scott Coast. Here, a small rocky point sticks out into the Ross Sea from the glaciated continental shore. On the highest beach ridges towards the tip of this cape there is a scattering of six pebble areas that indicate penguins once bred here. These sites are estimated at 4000 yrs old, but require additional tests to confirm their age. I excavated and sampled one of the sites and surveyed the rest of the cape to find more, but the six sites were all that were located here.
An abandoned penguin colony at Cape Roberts.
Excavations at one of the abandoned sites recovered penguin bones and feathers that will help confirm the age of these sites.
The beach area by the front of the glacier, which is still the Wilson Piedmont Glacier that I noted at Cape Spike above, is covered with large boulders and cobbles, many of which exhibit glacial polishing when they were beneath the ice in the past. Part of the area looked like cobble pavement from its flat, polished surface. It was a very scenic area.
The beach in front of the Wilson Piedmont Glacier at Cape Roberts.
Polished glacial pavement at Cape Roberts.
After six hours at this cape we returned to the station. Today there are no flights as it is Sunday, a day off for the pilots. We caught up on notes in the lab and prepared for our next outing scheduled for tomorrow, this time to Cape Ross. After that, we will try to reach Cape Bird again and I will post more information as we complete this work.
________________________________________
24 January
Yesterday we were able to get out again and made it to Cape Ross, far up the Scott Coast. This is another point of land covered with boulders and cobbles that juts out into the Ross Sea where it is surrounded by sea ice. We landed next to some fuel drums, a small depot here, which also happened to be on top of one of the abandoned penguin colonies I sampled here in 2001! I mapped this site again with my GPS and began surveying the rest of the point. I found at least 14 former colonies scattered about the point, all near places where penguins would have been able to access this terrace from the beach. I decided to sample at one of these sites and recovered a number of feathers, but no bone. I will be able to see if this site, as with the others here, dates to about 4000 yrs old.
The landing site, on an abandoned penguin colony, at Cape Ross.
A view of the tip of Cape Ross from the upper terrace. Most of the abandoned colonies are on the lower terrace at the end of the cape shown here.
After completing this sampling, and while Tao and Jurek were off collecting their own samples, Larry and I hiked up to the next highest terrace at an elevation of about 90 m above sea level. I didn't expect to find any more sites here, but when I found a suspicious looking pebble concentration on the north side my trowel immediately turned up bone from just below the surface! So, here was another site, previously undiscovered, on this high terrace. It seems to have been isolated as we found no others in the area. I excavated and collected samples of bone and feathers from this site too and it will be interesting to see if it dates to the same age as the others on the lower terrace.
I was surprised to find this abandoned penguin colony on the upper terrace at Cape Ross. You can see penguin bone from this site just below my trowel in the lower photo.
We hiked around the cape a little more after this, but weather was beginning to close in on us from the north so we were glad that the helicopter pilot was able to pick us up a little early. So, it was a successful day.
Now we are waiting for a storm to clear. It began to snow lightly this morning, then became heavier and our plans to visit Cape Bird today were canceled. We will have to put off that trip once again, plus other planned outings until at least Thursday. We only have a little more than a week left here, so hopefully we will get a few good days in which we can complete all our work.
The streets of McMurdo today.
The air hanger and helicopter pads at McMurdo, closed today due to this storm.
__________________________________________
29 January
After the storms passed last week, we were able to get out in the field these past two days and the weather was great. On Friday, we went to Cape Bird, a site we have been trying to reach for two weeks. It has been difficult to get there this season as the route over has been blocked nearly every day by thick clouds preventing the helicopters from passing through. Friday, though, the path was clear despite an overcast day and we jumped at the opportunity! We landed on McDonald Beach, a wide open gravel terrace situated between the middle and south Adélie Penguin colonies that comprise three different subcolonies at this location. The north colony is near the New Zealand hut where we have stayed in previous years. Today, we have just six hours to visit the area and the pilot stayed with us the entire time, ensuring that we wouldn't get stuck here by returning clouds.
The helicopter landing site on McDonald Beach, Cape Bird.
I hiked to the south side of the south colony where I had sampled some abandoned penguin colonies in 2009/10. These sites are the oldest ones here, dating to about 1100 yrs old, and I wanted to get a few more samples for analysis. I relocated them and was able to recover some small samples of eggshell and feathers from one of eight pebble areas here.
Abandoned penguin mounds at the south end of Cape Bird. I called these sites the 'White Sites' due to the encrusted salt on the surface.
I hiked back via the south colony and found penguin eggshell samples here to collect for mercury and stable isotope analyses. Larry and Tao were here, also collecting samples. After a hurried lunch back at the landing site, we went on to the middle colony and sampled there as well. It was a quick trip today and we hiked about seven miles total before returning to the station, glad to have finally reached this site even for this brief time.
Part of the south colony of penguins at Cape Bird.
On Saturday, we again flew with close support and the pilot stayed with us all day. This time, we were in a smaller helicopter (an A-star) and Jurek volunteered to stay behind as only three of us could go in this type of helo. We flew to Marble Point where we made a brief stop for fuel and the station managers there (Karen, Phil) surprised our pilot, Barry, with a cake as it was his birthday! So, we were able to share in the excellent cake that Karen had made for him. Then we were off to Depot Island just to the north of Cape Ross.
We arrived on Depot Island around 9:45 am. It is a small, circular island on a raised terrace that did not take long to survey. I found three very shallow pebble areas indicating that penguins had nested here in the past, though it must have been a very brief occupation. I sampled one of these sites and recovered some tissue samples for radiocarbon dating. We also saw an historic rock cairn here, built by Professor David (a member of Shackleton's Nimrod expedition) in 1908 to mark a depot of specimens he had collected. The cache was later retrieved by Scott's northern party in 1912 when they visited the site. All that is here now is the cairn with a bamboo pole and an empty fuel can.
The landing site on Depot Island.
A shallow abandoned penguin colony at Depot Island.
The historic cairn on Depot Island, built in 1908. Note the empty fuel can at the base.
We completed work here by 11 am and flew over to the nearby Depot Peninsula. Here, there were over a dozen pebble mounds scattered about from the top of the highest point of the peninsula to the terraces below. Larry and I surveyed and mapped all these sites, then I excavated one site (Site 5) on the lower terrace. Here, I recovered pieces of penguin skin, feathers, and bones, a relatively rich deposit. I also probed into and recovered smaller samples of tissues from two other sites on the hill top before we left this area by 3 pm.
A view of Depot Peninsula from Depot Island.
The landing site at Depot Peninsula with pebble areas in foreground and where the helicopter sits. Depot Island is visible in the back.
A pebble mound on top of Depot Peninsula.
Excavations of Site 5 on Depot Peninsula. Larry Coats in photo.
Penguin chick tail feathers found during excavations of Site 5 on Depot Peninsula.
Our last stop for the day was Gregory Island just to the south of Cape Ross. It is a low, oblong and relatively small island that we had never visited before, but wanted to do a quick survey for any old penguin remains. The island lacked penguin sites, but was a beautiful spot! It was all granite bedrock, similar to Cape Geology, and also had lots of vegetation—mosses, lichens of various colors—all over the island. It was the richest vegetated place I have seen in the Ross Sea, so remarkable in that respect. We spent an hour here and found another rock cairn on the north end, but with no artifacts around it to help tell us its age. We suspect is also was built in the early 1900s.
The rocky landscape on Gregory Island.
Some of the many lichens we saw on Gregory Island.
The cairn at the north end of Gregory Island, probably built in 1908 or 1912.
Our long, productive day ended with another stop at Marble Point for fuel and then back to McMurdo by 5:45 pm. Now, we are on our final week here and hope to complete one or two more trips out before packing up.
_________________________________________
2 February
We have now completed our field work this season. Our last few days of work were excellent and the weather was better than ever. Yesterday especially was nice as it was sunny and calm all day. We flew our farthest north in the morning, to Tripp Island just north of Cape Ross. We had never been here before and we wanted to survey for any abandoned penguin colonies. Because this is a small island with steep sides, we didn't expect to find anything. However, upon landing on the east side we could see that penguins could have accessed beaches here in the past.
Looking east from top of Tripp Island. Note helicopter in background on the lower terrace.
Site 1 on Tripp Island, a small shallow pebble concentration that produced lots of penguin eggshell fragments.
I walked to the top of the island while Larry searched the lower terraces and Jurek went to search for any mosses or lichens. I was soon surprised to find a small, though shallow, pebble concentration with eggshell in the sediments near the top of the island, thus making Tripp Island a new location for past penguin occupation. I recorded this site and found one more on the top of the island before Larry joined me with the excavation gear. I began by sampling the shallow sediments at the first site, only about 5 cm thick, but with lots of eggshell fragments present. Then I moved to the top site and excavated to 10 cm in depth here. The sediments at this top site appeared quite old, with a whitish color to them and only a few small eggshell fragments still preserved. It may be quite old, but I will have to wait and see if I can get a radiocarbon date from the small eggshell fragments that I recovered.
Site 2 on the top of Tripp Island (top) with the whitish ornithogenic sediments exposed in level 2 (bottom).
We then packed up and boarded the helicopter, which was staying with us all day in close support. Next we flew to Gregory Island again so that Jurek, who was not with us on the first visit here, could see all the vegetation on this island for himself and collect samples. Larry got off here with him while the pilot and I flew to Cape Ross just to the north. I wanted to complete more survey there while the others worked at Gregory. We landed on the upper terrace, south side, of Cape Ross and I first explored a small beach on this side that had several levels of raised beaches. I was looking for abandoned colonies on these beaches but none was present.
The landing site on the south side of Cape Ross.
A small beach on the south side of Cape Ross.
I then hiked to the north side of this upper terrace to where we found a site on our last trip, then to the lower terrace to map more sites. I continued my survey to the south and back up to the upper terrace. Here, I was surprised to find two large pebble mounds on that were isolated from all other abandoned colonies on the cape and thus easily missed. I was impressed by their size and took small samples from them to obtain radiocarbon dates. They appear to be about the same age (4000 yrs old) as other sites here, but again I will have to wait until I can complete the radiocarbon analyses.
An unusually large penguin mound on the south side of Cape Ross.
After returning to the helicopter we flew back to Gregory Island for the last hour. The pilot was impressed by how nice it was here and enjoyed hiking around with us. We returned to McMurdo Station by 5:30 pm, a good long day and a great way to end the field season. The new sites at Tripp Island and Cape Ross were particularly exciting to find before the season ended. Now we are completing our work in the lab, packing and shipping samples, and turning in all our field gear. Our flight to Christchurch is scheduled for this Saturday, Feb. 4, so this will be my last entry on this blog. It's been a great season and I hope to return here in the future.
________________________________________