Dr. Emslie's
Antarctic Research Blog 2010-11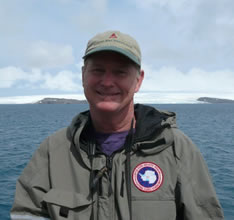 Follow along with Dr. Emslie and his graduate student, Ashley McKenzie, as they complete field work in the Ross Sea region, Antarctica, beginning in December 2015.
_____________________________________
10 January 2011 - Heading South to Punta Arenas, Chile
Hello to all the 4th Grade classes at Codington Elementary! I hope you will be able to follow my travels to Antarctica with my student, Chelsea McDougall, who you met when I came to visit your classes in the fall. Right now, we are busily preparing for the start of our trip. We will leave on Friday, Jan. 14, and will fly from Wilmington to Punta Arenas, Chile. It will take over a day to get there so, while we leave in the afternoon on the 14th, we won't get to Punta Arenas until the evening of the 15th. It will take numerous flights to get that far south. Maybe your teacher can help you find our route on a map as follows:
Wilmington to Atlanta (depart 1:50 pm, Friday, January 14)
Atlanta to Dallas, Texas
Dallas to Santiago, Chile
Santiago to Punta Arenas (arrive 7:50 pm, Saturday, 15 January)
Punta Arenas, Chile, a small port town at the southern tip of the country.
As you will see on the map, Punta Arenas is a small town at the southern tip of South America, in a region shared with Argentina known as Patagonia (see http://en.wikipedia.org/wiki/Patagonia). It's a beautiful part of the world and we will spend 2-3 days there while waiting for our flight to King George Island in the Antarctic Peninsula. We will fly there with my Chinese colleague, ZhouQing Xie, on a small Chilean plane and land at the Chilean air strip on King George Island and not far from the Chinese station 'Great Wall'. Then, it will take us a day or two to get settled before we begin our field work. At that time, Chelsea and I will start posting photos and information on the project on this blog. Your teachers can begin to collect questions from your about this work and send us the best ones each week. We will post answers to these questions on this blog. We look forward to hearing from you over the next 5-6 weeks!
__________________________________
17 January 2011 - Punta Arenas, Chile
We are now in Punta Arenas in southern Chile, awaiting our next flight to King George Island in the Antarctic Peninsula. We hope to leave tomorrow, but it all depends on the weather. Right now, things look good. However, there is also some civil unrest in this city. Apparently, the Chilean government has decided to raise the price of natural gas here, the primary means to heat homes, by 16%. The people are understandably upset and have been staging a series of peaceful protests and road blocks to slow traffic and make a statement. If this continues, it might delay our flight to Antarctica. On Sunday, we saw a parade of demonstrators moving down the streets, but they were cheerful and glad for the attention they were receiving. The blue and gold flag you see them carrying is the flag for this region of Patagonia. The stars symbolize the southern cross constellation while the blue is the sky and the yellow represents the mountains.
Punta Arenas is a nice city and the people are very friendly. The central square has a statue of Magellan, the first person to sail around the world in the early 1500s. He discovered the Straits of Magellan, or the passage through Tierra del Fuego and Patagonia to sail around the tip of the South America without going into more treacherous seas around Cape Horn. Take a few moments to read more about this important explorer at: http://en.wikipedia.org/wiki/Ferdinand_Magellan. At the base of this statue is a figure of a local native, one of a tribe of natives that Magellan met on his voyage. The foot of this native is bright and shiny because travelers are supposed to rub it for good luck before sailing from this port. Chelsea and I did this too! Note the stray dogs next to us—they are found all around the city.
_______________________________
21 January 2011: Great Wall Station, King George Island, Antarctica
We have arrived at Great Wall Station, the Chinese station on King George Island in the Antarctic Peninsula! After being delayed in Punta Arenas for several days, it was great to finally get here. Fortunately, the strike that closed the airport in Punta Arenas was settled on Tuesday. The people were celebrating in the streets that night and it was quite a sight to see! Everyone was very happy including us as we knew there would be no more delays in getting to Antarctica, unless of course the weather changed.

Steve and his colleague, ZhouQing Xie, preparing to board the
Chilean Air Force plane in Punta Arenas
The morning of Thursday, Jan. 20, was quite nice though so we went to the airport and entered a military compound. The Chilean Air Force was flying us to the Chilean base on King George Island, not far from the Chinese station. Besides us, there were several other groups on the flight going to Antarctica—a delegation of Chinese ministers and administrators from Beijing, a small group of Brazilians, some Chileans, some Spanish, and some Germans. All were going to various stations in the Antarctic Peninsula, so it was full flight in a cargo plane and we were all jammed in with our luggage. It took only 2.5 hours to reach King George Island, though, and we were in the Antarctic!

Chelsea was happy to be in Antarctica after the plane landed on
King George Island
We were met by more Chinese at the airport and, after retrieving our bags, we drove over to their station about a mile away. The station is in a beautiful setting in a small bay with an island, Ardley Island, just in front. This island is where we will begin our work as it has several colonies of nesting penguins and some old abandoned nesting sites that we can excavate and sample. The island actually connects to the mainland by a small strip of land that is exposed at low tide, so we do not need boats to get out there. We just have to watch the tides and come back before our 'bridge' is under water again.

Ardley Island in the bay in front of the Chinese Station
We settled into our rooms in the station—it is very comfortable here and Chelsea and I each have our own room with internet connection. So, we can easily stay in touch with the Codington classes and perhaps even use skype to visit your classroom live from Antarctica! We walked around the area and the station to get familiar with everything. They have a brand new science lab and a gymnasium with a basketball court. It's the first time I've ever seen a basketball court in Antarctica!

Great Wall Station on King George Island

Sign posts at Great Wall Station that give distance and direction to cities in China. The new gym building is the large blue building in the back and the white building is where bedrooms and the dining room/kitchen are located.
Our first dinner here was excellent. The Chinese had a banquet prepared for the visiting delegation from Beijing. So there were several speeches followed by an excellent dinner with Peking duck, noodles, dumplings, tofu, fish, and fruit. We will eat very well here!
Today it is hectic around the station as the delegation that arrived with us is flying back to Chile today. It is snowing lightly as well, but Chelsea and I will walk out to Ardley Island when the tide it right and start looking at our first field sites. If you have questions you want to send us, you can work with your teachers to assemble a few of the best questions and we will post answers as time permits. Hope to hear from you soon!
_______________________________
25 January 2011: Field Work on Ardley Island
Since I last posted on this blog, Chelsea and I plus our colleague ZhouQing Xie, have been able to complete two good days of field work on Ardley Island. This island is beautiful and is designated as a Specially Protected Area in Antarctica, which means that entrance to it is strictly managed for research purposes only. I have a permit for us to enter this area for my research, so feel quite fortunate in being able to see it. The island includes a colony of over 4600 nests of Gentoo Penguins and over 400 nests of Adélie Penguin. My objective was to search in and around these colonies for deposits of pebbles and bones that I could excavate and sample. From these data, I could then determine how long these species have occupied this region and learn about their past diet as well.

Ardley Island is covered with many species of lichens and moss and is quite beautiful to see.
On 23 January, we found one part of the colony where deposits were located and I excavated in these much like an archaeologist digging a prehistoric site. Layer by layer we removed sediments and saved them to wash through screens in the lab. In this manner, we could separate the rocks and pebbles from the bones, feather, eggshell, and other organic remains that I wanted to save for study. We continued the excavation until we reached the bottom of the penguin sediments and hit the natural soils of the marine terrace where the site is located.

Steve and Chelsea expose the older layers in this Gentoo Penguin colony to sample for bones and feathers that are hundreds of years old.

Gentoo Penguin chicks are curious about what we are doing in their colony!

This profile of the sediments shows compacted penguin guano at the surface with older pebbles (used by penguins in their nest construction) to a depth of 60 cm before hitting the natural terrace and bedrock.
The entire time we were excavating this site, it was very windy and snowing, but we were still able to complete the work and backfill our pit. This took most of the day, so we left the island and returned to the station.

ZhouQing enjoys the snow on Ardley Island.
The next day, 24 January, we returned to Ardley in better weather and found another Gentoo Penguin deposit on the island that we sampled in a similar manner. Now, we have two sites sampled from this area that will give me information on the history of penguins on this island. We will next complete all the washing and screening of the sediments in the lab so see how much bone and feather was recovered. Later this week, we hope to visit a new area of King George Island to collect additional samples. Stayed tuned for more results soon!

A Gentoo Penguin resting on Ardley Island.
_______________________________
28 January 2011: Washing sediment samples and surveying around Fildes Peninsula, King George Isand, Antarctica
After completing several days of work at the penguin colonies, we have lots of sediments and samples that we need to wash, dry, and prepare for shipment back to Wilmington. The sediments require that we screen wash them through three screens with different mesh sizes (the size of the openings in the screen. As you can see from the photos below, we have three small square wood frames with a screen mounted inside each one. The top, or largest size screen is about ¼ inch in mesh size, allowing most sediment to pass through but not the larger rocks. In this manner, we can remove the rocks and greatly reduce the weight of the sediments we will ship back to Wilmington.
The middle screen is about 1/8 inch mesh, so gravel as well as bones, feathers, and larger organic remains will accumulate in this screen. The bottom screen has a very small mesh, so that only silt washes through leaving sediment, likes grains of sand, but also the smallest organic remains including fish bones and otoliths (fish ear bones that can be identified to the species of fish they are from). These finer sediments will have to be studied under a low-power microscope to find the tiny bones, but the middle screen can be sorted by eye so we can do that here. We took any bones and feathers out of the top screen during the washing, and left the rocks here, so that part is already done.
To complete this washing, we used a small melt water stream in front of the station. It saves water use in the station itself, and actually works quite well in helping us reduce the weight of our samples. We will probably rewash the sediments in Wilmington, just to have them as clean as possible for sorting, but that step will come later.

Chelsea washing sediments in a small melt water stream in front of
the Chinese station.
The three wood frames with different size screens are stacked on top of each other, a small amount of sediment from the penguin colony is place in the top screen, and then water is poured over it to wash the sediments through the screens and separate the larger rocks from the sand and silt.


Looking into the middle screen (1/8 inch mesh) after washing.
After washing, we place the sediments from the middle and bottom screens into trays to dry. This drying process will take several days. Then the sediments are ready to put back into bags and pack away for shipment to Wilmington.

Washed sediments from the middle and bottom screens are placed in trays to dry before shipment to Wilmington.
In between this lab work, we took time to do some survey work around Fildes Peninsula, or the part of King George Island where the Chinese station is located. This area is ice-free (no glaciers cover it) so has lots of terrain to survey for ancient penguin colonies. I look on the terraces above the beaches especially, as these are preferred areas by penguins for nesting sites. If they had used these areas in the past, I could find old pebble mounds from their nests, plus bones, feathers and other remains that indicate they were once here. We did however see a few Weddell Seals that were resting on the beaches.

These maps help show you exactly where we are in the Antarctic Peninsula (top left), On King George Island (top right), and on Fildes Peninsula at the southern tip of King George Island.

A Weddell Seal resting on the beach. The Chinese 'Great Wall' Station is in the background.
The area we surveyed was beautiful and we walked about 5-6 miles around the peninsula, but unfortunately we did not find any old colonies. However, it was a great day to be on a hike as the weather was good and the visibility around us was good too. We even saw some large icebergs that had drifted into the bay and grounded on the shallow marine shelf when the tide went down. We will continue more of these surveys on another day.

The coastline of Fildes Peninsula. Note the large grounded iceberg in the bay in the background.
_______________________________
2 February 2011: Elephant seals and answers to student questions!
For the past few days the weather has varied from rainy and windy to nice and sunny. We have completed most of our lab work now, having washed and rewashed all the sediments. We have also been sorting out all the bone, feathers, and eggshell fragments that will be useful for our analyses of past penguin occupation and diet. We also went on a couple more hikes around Fildes Peninsula, looking for but not finding any more abandoned penguin colonies. We did see lots of nice scenery again as well as our first Southern Elephant Seals!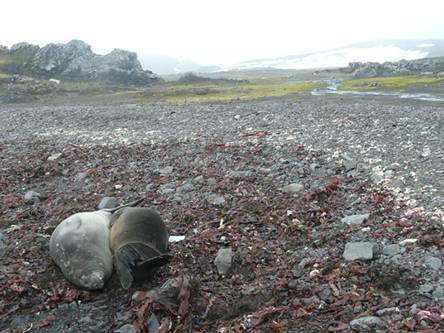 Southern Elephant Seals resting on the beach on Fildes Peninsula. They are molting their hair and skin for a new coat, something they do every year.
Right now, though, I have received the first set of questions from your teachers and provide the following answers:
Have you seen any penguins yet? Where are you in your research?
Yes, we have seen penguins every day since the day we arrived on King George Island on January 20. Because three species nest close by the station, and it's the middle of summer and their breeding season here, there are plenty of penguins around. Our research is progressing well—we are over half way through and have only one more area to visit and sample.

How much snow is there where you are?
Around the station right now there are only patches of snow, with more in the hills behind the station. A few miles away, though, is the edge of Collins Ice Cap, a large glacier that covers the rest of Fildes Peninsula. It is small, however, compared to the Arctowski Ice Field that covers about a third of King George Island. We did get several inches of snow from one storm earlier, but it has since melted.

What does your room look like inside the station?
The rooms are small and comfortable, about 8x10 feet in size with a small bed, desk, and bathroom. There is a high cabinet to use for storing clothes and other items, and a window that looks out over the bay. There is a flock of skuas bathing in a small melt pond below my room, so I get to hear and see them all the time. I really like that.

Skuas taking baths in a melt pond by the Chinese station.
Have you gone to the new gym yet?
We have only gone over to look at it and have not played basketball or have we seen the Chinese play. Mainly, we've been too busy and getting plenty of exercise already with our hiking and field work! However, we did play pool one night and may try ping pong with them another time. However, the Chinese are the ping pong champions of King George Island!

What types of penguins?
We see all three brush-tailed penguins here: Adélie, Chinstrap, and Gentoo because all breed near the station. Can you find all three of these species in the picture below? Hint, there are four species in the photo—one is a cormorant, a flying bird that nests near here too.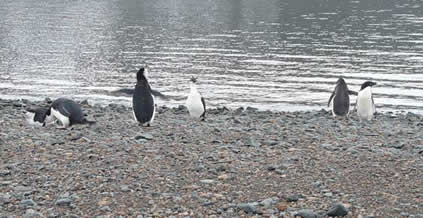 Have you gotten bit yet?
Since we don't handle the penguins in this work, we don't get bit! We try to avoid them as much as possible so that our disturbance is minimal and work only on excavations of penguin sediments. This is a good time of year for us to be here because all the penguin chicks have left the nests and are now in groups, or crèches, where they wait for their parents to return with food for them.

A crèche of Gentoo penguin chicks on Ardley Island. Most still have downy feathers and need to molt into body feathers before going to sea for the first time.


Are there any penguins around the base?
Yes, occasionally a few wander near the station, but none breed next to us so we don't see them close to the station that often.

Are you finding more or less penguins than in years past?
According to the biologists who have been tracking the number of penguins on Ardley Island every year, there are more Gentoo penguins this year than in the past (500 to 1000 more). There are about 5000 nests of Gentoos on Ardley. I can't judge this because this is the first time I've been in this area, but in general Gentoo penguins have been increasing in the Antarctic Peninsula with climate warming. Gentoos are more of a subantarctic species and thrive in warmer conditions, but the Adélie penguin is more of a true Antarctic species, dependent on the icy conditions. Its numbers have been declining throughout the Antarctic Peninsula as the amount of ice each year declines.

What is the mood of researchers there? Any new concerns with the populations you're seeing.
Yes, we are all concerned with the changes occurring in the Antarctic Peninsula. These changes have included an average increase in annual temperatures of 4-6º C. It may not seem like much, but here it is significant and has been causing ice shelves (extensions of glaciers into the ocean) to break up and collapse for the first time in recorded history. It is also causing the decline in penguins, especially Adélie penguins in this region. However, none of the species are in danger of extinction (yet) as there are still large populations. We hope to keep it this way!
Thank you all for these questions—they are good ones! We hope you will have more before we leave this station and return to Chile around February 10-12.
HAPPY CHINESE NEW YEAR!!
_______________________________
4 February 2011: Chelsea answers questions from Codington students

We have received more questions from you, this time from Ms. Carter's 4th grade class at Codington. I have asked my student, Chelsea, to reply to these and here are her answers:
Hello Ms. Carter's Class!
How many layers of clothing do you have to wear when you are out in the field?
That is the same question I was wondering as I was packing for my trip! This was my first time going to the Antarctic and I get cold very easily so I brought along plenty of layers, ranging from thin thermal shirts and pants to a heavy winter jacket. I personally like to dress with many thin layers and a rain suit instead of a heavy jacket. The weather here is in the 30's right now so it is important to keep warm, but a heavy jacket can be bulky and may even be too warm! Thin layers are easy to carry and can be removed if you get too hot. For the top layers I wear two thermal shirts, a thin polyester zip up jacket and a rain jacket. For the bottom I wear a pair of warm stretch pants, a fleece layer on top of that and rain pants to cover those. I carry an extra pair of socks and thermal layers in my backpack just in case the weather changes and it gets colder.
It is important to have rain gear at all times because it seems to rain/snow often on King George Island. I wear two pairs of wool socks and usually a thin pair of gloves with a pair of wool gloves to layer on top of those if I get cold. I always carry my fuzzy hat with me along with a fleece neck gaiter to keep my neck warm. I wore a heavy jacket on one day and I just got too hot hiking in it even though it was snowing! Dr. Emslie even said that on some windless days on his past adventures he was warm enough from working hard in the field that he only wore a short sleeved shirt!


Dr. Emslie and Chelsea dressed warmly in their layers!


Are there any natives that live in or around the area you are researching? If so, how do they respond to you guys being there?
Antarctica is the only continent in the world without natives, but I have discovered that there are some "long-term residents." The Chinese here at the Great Wall Station are going to be stationed here for one year! Some other stations have their people stay for longer. Dr. Emslie was telling me about how some of the Chileans even bring their families here and give birth on this island, but the birth certificate still says they are born in Chile. I have met people from many different nationalities here, and every single person I have met is friendly. The Chinese we are staying with are very welcoming and kind! Below is a picture of the different countries "claims" on Antarctica.

Terretorial 'claims' on Antarctica by different countries. Map from www.antarcticconnection.com

Looking back over your past trips, do you see changes in the environment?
This is my first trip here so I cannot say whether or not I have personally seen any changes in the environment. Dr. Emslie said that there is an average increase in annual temperatures of 4-6º C, which causes changes ice shelves to break up and collapse, and that has not happened here before.
Yesterday we visited the Chilean station and they had a display case of petrified wood they have found on King George Island. Some of the wood is 54 million to 100 million years old! The display case also had a drawing of what King George used to be like that long ago, and it was covered in trees, forests and had a few volcanoes. Scientists say it was ice free and may have been a tropical rainforest! Thank you all for such great questions- keep them coming!
_______________________________
6 February 2011: Barton Penisula, King George Island
After a stretch of bad weather, we finally got out for a full day yesterday, this time to another penguin colony located across the bay from us on Barton Peninsula and near the South Korean station 'King Sejong'. We took two zodiacs on the trip and it took about 50 minutes to cross the bay to the other peninsula. Zodiacs are rubber boats with an outboard engine that work quite well in Antarctic conditions and, because they are flexible and not rigid like a wooden boat, also are ideal for beach landings. We wore full 'mustang' survival suits for this trip to protect us from the cold and from getting wet as often on zodiacs waves and sea spray can splash over the boat. They also are important to wear in case you end up in the water! It was a comfortable trip across, though, with the wind at our backs.

Steve in his 'mustang' survival suit preparing to board the zodiacs for Barton Peninsula.
At Barton Peninsula, we walked to Narebski Point, another one of the Antarctic Specially Protected Areas (ASPA) that was designated relatively recently in 2009. It is special for many reasons—over 2100 nests of breeding gentoo and 2700 chinstrap penguins, lots of nesting skuas and giant petrels, who are still raising their chicks, and abundant vegetation including many types of lichens and thick beds of moss. It was a beautiful place and we spent a couple of hours walking around the area looking for penguin deposits where we might excavate. However, all the breeding areas had only shallow deposits and looked relatively recent in age—nothing old to excavate. We made some surface collections of feathers, but that was all we could do.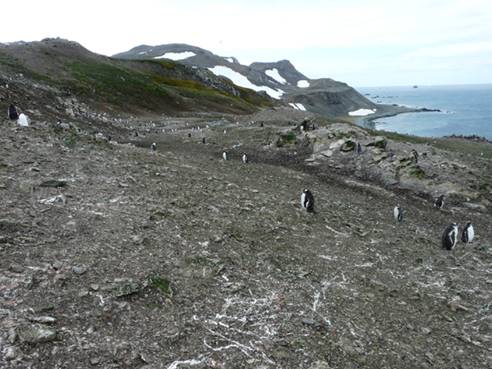 Narebski Point, Barton Peninsula, King George Island. This point is designated as ASPA 171 to help protect the rich wildlife here.

A thick bed of moss at Narebski Point.
We also noted lots of gentoo penguins now undergoing molt. Every year, after breeding, all birds need to replace all their body, wing, and tail feathers with new ones because of the wear and tear the feathers receive. Since the feathers are essential for insulation, it's important to replace the old with the new. Unlike other kinds of birds that molt in stages (first wing, then body, over a long period of time) penguins molt all their feathers at once. It takes about two weeks and while doing this they stay on land, usually near melt water or snow for drinking, and fast until it is done. They do it this way as they have only a limited amount of time left in the short Antarctic summer where food remains abundant. Molting takes lots of energy and the fasting means they need to feed once they are done with the molt. Late summer is best for this before the Antarctic winter sets in.

Molting Gentoo Penguins at Narebski Point.
After we completed our work at Narebski Point, we walked to the South Korean station where our boats and Chinese colleagues were now waiting. The station leader there, Hyoung Chul, gave us a warm welcome and treated us to lunch. We had a nice visit with them and saw part of their station, also very nice and comfortable. They kindly gave us patches and stickers representing their Antarctic program, followed by a group picture, before we headed back across the bay to Great Wall station. The return trip back took about an hour and was a little wetter going into the wind, but not too bad. Now, Chelsea and I have completed all our work in this area so will spend some time cleaning field equipment, packing, and preparing samples for shipping back to the U.S. Before we leave, though, we hope to have some time to just hike around the area and enjoy the scenery and wildlife a little one last time! Not today, though, as the high winds, snow and rain have come back.

Chelsea and I pose with our Chinese colleagues and the station leader of 'King Sejong', Hyoung Chul Shin (back row left) and their ornithologist Jeong-Hoon Kim (back row, center).
_______________________________
10 February 2011: Last Day in Antarctica!
Today is our last day in Antarctica—our flight has arrived from Punta Arenas and we will leave this afternoon. Over the past couple of days, we have been waiting for the weather to clear so this flight could get to King George Island and now the weather is fine. Yesterday, we spent some time walking around the area and visiting the Chilean and Russian stations near Great Wall station. Both of these other stations are situated right next to each other, so there is a lot of exchange of people and information.

A view of both the Russian 'Bellingshausen' station in foreground and the Chilean 'Eduardo Frei' station in the back.
We visited the post office at the Chilean station where we were able to have our passports stamped with the Chilean base stamp. Later, we were able to do this at the Russian station too, so these make nice additions to our passports.
Chelsea gets her passport stamped at the Chilean station post office.
While walking around, we met some people we had met before from one of the other stations and were invited to join them for tea at the Russian station. First, though, we walked up to a hilltop to take a look at the unusual Russian orothodox church that was built here in 2002. It is small, but the architectural style is similar to larger churches in Russia. There was actually a marriage performed in this church just a few weeks ago!
Sign at the entrance to the Russian station.

The orothodox church at the Russian 'Bellingshausen' station on King George Island.
Now we will enjoy our last lunch with our Chinese friends at Great Wall. It has been really great to know them, an excellent group of people. After we leave, the 12 of them will be left for the winter so we are their last visitors this season. Chelsea and I both wish them well and to have a wonderful winter season! We will post more information before we come home to Wilmington about our last few days in Chile.
_______________________________
14 February 2011: Leaving Antarctica & Southern Chile
Chelsea and I are now in Chile and will be home soon. Our last day at the Chinese station went by quickly and before we knew it we were saying goodbye and boarding the plane back to Chile. It was a regular passenger plane this time, not the air force cargo plane, that flew us back.
Some of the Chinese came to see us off when we left King George Island on 10 February.
Chelsea boarding the plane and taking one last look at Antarctica.
Once in Chile, we had a busy day of repacking and getting our samples ready for shipping back to the U.S. All the field gear was checked and packed as well—three boxes total. A local logistics company, AGUNSA, handles all of this for us so we don't have to take it with us on the plane. Instead, it will be shipped to California and then to Wilmington.
Once that was completed, we decided to take a couple of days and visit a beautiful national park in this part of Patagonia. It's called Torres del Paine and it is a huge area with lots of local wildlife. The scenery is spectacular as well. We drove around the park in a tour 'bus', really just a van with six others also touring the park, but it gave us many opportunities to stop and take photos or hike on some of the trails. The park includes huge mountains with glaciers, many lakes and rivers, and local species such as guanacos (a type of llama) and the ostrich-like rheas, a flightless ground bird found on the pampas (open grasslands) of Patagonia. It was a fantastic day for seeing the park!
Some of the spectacular scenery at Torres del Paine National Park, Chile.
A guanaco, a species of llama, native to Patagonia.
Close up of a guanaco

Rheas are a common sight on the pampas of Patagonia.
Tomorrow we head for Santiago, the capital of Chile, where we will spend two nights before heading back to Wilmington. Over the next month, we hope to visit your classroom again to follow up on this research and our earlier visit. We look forward to seeing you then!
_______________________________