Dr. Emslie's Antarctic Blog 2010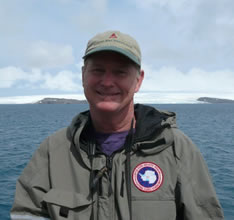 Follow along with Dr. Emslie as he travels to the Southern Ross Sea, Antarctica, to study penguins, both past and present. The latest entries are at the bottom.
_____________________________________
7 January 2010: Christchurch, New Zealand
Welcome to my Antarctic blog! I am now in Christchurch, New Zealand, with the rest of my field team for this season. Most of us left the U.S. on 4 January, but arrived here on 6 January because we crossed the International Date Line on our journey south. We spent up to 30 hrs traveling, between actual flight time and time waiting for flights in airports. However, we had no major delays or problems so we arrived here tired, but in good shape.
There are five people in my team, including me, and we represent three countries: the U.S., Poland, and China. I have brought along one undergraduate student from UNCW, Eva Gruber, who will help with the work in the field. Also on the team is mountaineer/first-aider Larry Coats from the University of Utah, a long time colleague of mine who has worked with me on many field projects. Rounding out the team are Jurek Smykla, a botanist from Poland, and XiaoDong Liu, a geologist from Hefei, China. After we all had a good night of sleep on our first night here, we walked around the city and stopped by the statue of Robert Falcon Scott, the famous British explorer who did much to advance exploration and science in Antarctica in the early 1900s and died on the way back from the South Pole in 1912.
Christchurch is also home to the Antarctic Distribution Center, a hub of logistical support for everyone going down to the Antarctic on this side of the Antarctic continent. Personnel at this center coordinate the flights to McMurdo Station, help with our travel arrangements to and from our home bases, and supply all the clothing we will need while on the ice. We went to the Center today to pick up all our clothing and are now cleared to 'deploy' south on the next flight. Unfortunately, bad weather at McMurdo Station has resulted in several cancelled flights this week, so there are lots of people here still trying to get to the station. As a result, my field team has been bumped from our original flight tomorrow to one on Saturday morning, giving us an extra day in Christchurch. There's plenty to do here, though, so it is not so bad and hopefully the weather will clear at the station by tomorrow so everyone can complete their travels south.
The field team at the Scott statue in Christchurch: left to right, Eva Gruber, Steve Emslie, Larry Coats, XiaoDong Liu, and Jurek Smykla.
_____________________________________
10 January 2010: McMurdo Station, Ross Island, Antarctica
We are now at McMurdo Station, the largest station in Antarctica and one of three U.S. stations located here. We left Christchurch yesterday on a C-17 military plane, flown by members of the U.S. Air National Guard. The flight took about six hours and we landed on an ice runway located on a thick ice shelf (an extension of a glacier into the sea that has a flat surface) not far from the station. We then all boarded a large snow vehicle, similar to a school bus but on snow treads instead of wheels, and were taken to the station for our introductory lecture and room assignments. By luck, there also happened to be a small group of Emperor Penguins on the ice that we saw on the way in. These penguins have already completed their breeding season this year and are now wandering about. It is unusual to see them this close to McMurdo Station so it was a real treat for all of us. Eva, who was here for the first time, was particularly excited about this and you can follow her experiences in Antarctica in her own words at her blog at: asouthernmigration.wordpress.com. Larry Coats is also keeping a blog of our trip at: www.coplateau.com/Antarctica2010.
Eva boarding the C-17 to McMurdo Station from Christchurch, New Zealand.
Larry Coats leaving the plane at the ice landing strip at McMurdo Station, Antarctica.
After getting checked in, we unpacked and got settled in our rooms. The station is pretty full in summer with all the work that takes place, so we shared bunk rooms with up to six people in each room. Still, it was comfortable and adequate for our needs. We also have our own lab in the science building, Crary, where we will spend most of our time while on station. Today being Sunday there's not much to do but relax and get organized for the field work ahead. Over the next few days, we will be getting our field camp supplies together, complete more training courses, and arrange to fly by helicopter to our first study site on the other side of Ross Island, Cape Crozier, where over 100,000 Adélie Penguin nests are located. Because Eva and Liu are new here, they have to take a 'snow school' course to help prepare them for camping in Antarctica. They will spend one night camping out near the station with an outdoor expert to learn how to cope with Antarctic conditions while in the field. So, by Thursday we should all be cleared to start our field work.
Eva stepping on Antarctic ice for the first time!
Emperor Penguins on the ice near McMurdo Station, 9 January 2010.
_____________________________________
15 January 2010: Cape Royds, Ross Island, Antarctica
Since my last entry, we have spent several days at McMurdo Station preparing for field work. Liu and Eva successfully completed their snow school, spending one night outside learning how to live, camp, and survive in this extreme environment. Meanwhile, the rest of us gathered field gear and completed logistical plans for our field season. We did have to change our plans slightly from what I originally described above. We spent one day in the field yesterday at Cape Royds, about a 20 minute helicopter ride from the station, where there is an active Adélie Penguin colony of about 1200 nesting pair. A leading expert on Adélie Penguins, Dr. David Ainley, was at Cape Royds when we arrived. He has been camping here all season to study this colony, which has been declining in numbers in recent years. You can learn more about his project by following this link.

Student Eva and our helicopter to Cape Royds
Adélie penguin and chick at Cape Royds

We also hiked to a number of abandoned penguin colonies located farther to the north. Here, I mapped 14 pebble areas. I could recognize these sites as former penguin colonies by the concentration of pebbles, all about the same size. Penguins use these stones to build their nests and, over time after using the same colony year after year, the pebble concentration increases and can even form a large mound. Here, there was just a thin layer of pebbles with reddish soil below, another characteristic of these former colonies. I excavated a small pit in one of the colonies to collect some sediment and bone for radiocarbon dating.
Abandoned Adélie penguin colony at Cape Royds
Excavating an abandoned Adélie penguin colony at Cape Royds

While I completed this work, Liu and Jurek collected sediment and plant samples for their research. I also had time to photograph a South Polar Skua, a bird related to gulls, and its chicks. Skuas live 25-30 years and survive in one of the toughest environments in the world. They feed on fish and krill, but also some will take penguin eggs and chicks. We saw several around the colony attempting to do this.

Adélie penguin sneaking up on Liu while he works!
South Polar Skua at Cape Royds
By late afternoon, after spending six hours out in the cold, we were ready to head back to the station. First, though, we took a brief tour of the historic hut located at Cape Royds. Built by British Antarctic explorer Ernest Shackleton in 1908 and used during two of his expeditions, the hut is very well preserved and maintained today by the New Zealand Heritage Trust. Both inside and outside the hut are numerous artifacts, just as Shackleton and his men left them 100 years ago: wooden boxes of food and other supplies, gear for sledges, canned food on shelves, cots with sleeping bags, extra clothes, and other personal items still strewn about the hut. Visiting it is like stepping back in time to an era when Antarctic exploration was in its infancy and the slightest mistake could cost your life. You can learn more about this hut and the history of Shackleton's expedition by following this link.

Shackleton's Hut at Cape Royds
Insides Shackleton's Hut at Cape Royds
A helicopter arrived to pick us up by 6 pm and we returned to the station for dinner. Today, we have repacked our gear for another field trip, this time for several days at Cape Bird. We are scheduled to leave for Cape Bird tomorrow on another helicopter. This cape also is on Ross Island, but has a large penguin colony of greater than 40,000 nests. So it will be a very active place when we arrive!
_____________________________________
16 January 2010: McMurdo Station, Ross Island, Antarctica
Answers to Questions from Ms. Trutt's 2nd Grade Class at Gregory Elementary School in Wilmington, NC:

What do researchers eat and drink while they are in Antarctica?
- Justus

Good question and I will start with drinks—lots of water! It's very easy to get dehydrated here because it is cold and dry. Hiking and working outside takes a lot of moisture from your body and it's easy to become dehydrated without knowing it. The best drinks besides water are natural fruit juices for more energy. Sugary drinks are out—sodas, etc., just make you more thirsty because it takes water from your body to process the sugar in those drinks. As for food, while in the field snacks high in protein and energy are best to have with you. When you start to get cold, a drink of water and a snack bar or a chocolate bar can help a lot. For cooked meals, there is nothing real unusual there from what you would normally eat at home: chicken or other meats, potatoes or rice, vegetables (usually frozen, not fresh). When we're lucky, fresh salad is available if a flight from New Zealand has arrived with fresh foods. Overall, well balanced meals are essential.

How far do penguins travel to get to Antarctica?
- Iyauna

There are five species of penguins known to breed in Antarctica. By far the most abundant is the Adélie Penguin, the one I am studying here. Every winter, after breeding and molt this species leaves its nesting grounds on the coast of Antarctica (they are found all around the continent and on islands nearby) and head out to the ice edge as sea ice builds up around Antarctica in winter. Here they feed and remain at sea until spring, when they return to their colonies. So, they probably travel hundreds of miles between winter and summer areas, but very little is known on these movements except with a few individuals that have been tracked using satellite tracking devices attached to their backs.

For the other species, especially the Chinstrap and Gentoo Penguins, they are found primarily in the Antarctic Peninsula and sub-Antarctic islands. The Chinstrap also moves out to open ocean during winter, traveling hundreds of miles before coming back to nesting sites in the spring. The Gentoo moves the least, staying near breeding sites in winter as long as open water is still present. One other penguin, the Macaroni Penguin, barely gets into the Antarctic Peninsula and is found primarily on sub-Antarctic islands. It also spends much of the winter at sea. Finally, the Emperor Penguin, the largest species in the world, is the one most commonly associated with Antarctica. It spends the winter near the edge of the permanent ice, but individuals have been tracked moving hundreds of miles out to sea and back. It also, of course, is known for its long walks across sea ice to reach breeding sites, often traveling dozens of miles by foot to reach these sites. All these species, however, are very well adapted to the cold and, because they are seabirds, they are happier at sea than on land.


What is important to you about penguins?
- Divia

Well, there are many answers to this question. First, penguins are seabirds and I am fascinated by the habits and adaptations of these birds. Antarctic penguins are particularly of interest because they can survive in one of the harshest environments on the planet. It is always amazing to me to see how well they fit into this very cold region. Penguins are also great indicators of environmental change. If something is happening to the environment, even minor changes, the effects become more magnified up the food chain to penguins, which are near the top. Thus, penguins are more sensitive to environmental fluctuations and will respond to them in visible ways: they may abandon breeding sites because they can no longer find enough food nearby, or their chicks may not grow as well or survive as well if climate change affects their food and habitat. They also live a long time, on average 8-12 years, and always come back to the same nest site to breed. So, by studying them over the long term, scientists can better understand how changes in climate and the environment influence the behavior and survival of this species.

Thank you Justus, Iyauna, and Divia for these excellent questions! I'm happy to answer more from your class when you are ready.
_____________________________________
21 January 2010: Cape Bird, Ross Island, Antarctica
Late yesterday afternoon we returned from our visit to Cape Bird where we spent four nights and three full days working at active and abandoned penguin colonies. It is a spectacular place to work and there is a New Zealand hut there where two scientists, Kerry and Isaac, were staying to complete studies on the penguin colonies. Kerry has been working at this site almost every year since the late 1980s so is a gold mine of information about the colony. She also is an old friend as we met her in 2001 when we first stayed at this hut. So, it was a pleasant surprise to have her greet us as we stepped off the helicopter upon our arrive on 16 January. Isaac is a student on his summer break who is volunteering to help at the colony. He has been here since November and has gained valuable experience on working with birds in the field.

The New Zealand hut at Cape Bird on a terrace overlooking the southern Ross Sea. I stayed in the tent to avoid overcrowding in the hut's bunkroom.

Once we were settled at the hut, a very comfortable place that Kerry and Isaac kindly allowed us to share with them, we started work in the colonies collecting penguin eggshells still lying about the colony. We collect these eggshells for stable isotope analysis, a type of analysis that provides useful information on penguin diet (see blog by Mike Polito to learn more about this study). Over the next three days, we all hiked extensively around this area, visiting all three parts of this large penguin colony (there is a north, middle, and south colony) plus other areas where abandoned penguin colonies were located. I was very pleased to find a number of abandoned sites, some appearing quite old, that I was able to excavate and sample. It's hard to guess how old they might be, but from the dry and dusty sediments that characterized some of them, I would guess at least 2000 years old.

I sample these sites like an archaeological site, excavating into the old mounds in 5-cm levels and then screening all the sediments through two screens of different sizes. This allows me to quickly sort out the rocks and pebbles from the sediments containing organic remains including penguin bone, feathers, and eggshell. Penguin deposits are easy to distinguish from natural deposits as the penguins leave behind layers of pebbles, all about the same size, with sediments that are usually reddish to pink in color. This color originates from their guano and a diet that includes krill, a shrimp-like organism that also is reddish in color. I continue excavating until I reach the bottom of these sediments and radiocarbon dates on the bottom layer provide information on when the site was originally occupied by penguins.
In addition to my work, Jurek was able to find some good spots for plants. He found algae growing on the old colonies and moss in some of the wetter areas around the glaciers. Liu also had good luck finding old deep sediments near the penguin colonies that he could sample for changes in soil minerals before, during, and after penguins occupied the area.

Student Eva Gruber and I begin excavation at an abandoned colony on an old raised beach, or former shoreline, at Cape Bird.


Penguins are very curious and often walk over to us while we are working, just to see what we are up to!


In addition to the penguin colonies, Cape Bird also is close the front of a large glacier that flows down from Mt. Bird. The front is just above the penguin colonies and in summer melting water flows through the colonies to the sea. It is this water that is the source of drinking water for the scientists at the hut, but it also has been flooding some of the penguin nests causing problems for parents trying to raise their chicks. Kerry said that the melt was greater this summer than she has ever seen before, possibly indicating that global warming trends are now affecting this part of Antarctica. Also supporting this view is that we noticed that the glacier had visibly retreated from where we first saw it in 2001.


The front of the glacier at Cape Bird. Melt water is flowing off the top.


Melt water from the glacier (background) is impacting active penguin nests, more so than in any previous year of monitoring at this site.


Glacier melt water has eroded the side of this abandoned penguin colony, exposing the pebbles and reddish sediments that are formed by penguins over time. The darker soils below are the natural beach gravels and sand.


This exposure in the bank of a glacial stream shows two layers of penguin occupation with glacial deposits in between. The lower penguin layer, at the level of the trowel handle, also has a partial penguin chick mummy exposed that was collected when we sampled this site.

Now we will stay at McMurdo for two days to catch up on sample processing, then head out in the field again to some new sites. I will post more as we visit these new areas with updates on our findings.
27 January 2010: McMurdo Station & Marble Point, Antarctica
Since returning from Cape Bird, we have been busy in the lab at McMurdo processing all our samples, plus we have made several 'day trips' by helicopter to sites near the station where we collected additional samples. In the lab, I wash all the sediments I excavate from abandoned penguin colonies through three screens of different sizes. This washing sorts the rocks and sediments to make it easier to extract the organic remains and leave the rocks behind, reducing the weight of my samples considerably for shipment back to the U.S. After the finer sediments dry, we can then sort through those to remove all eggshell, feather, bone or other organic remains that the penguins left behind that will be valuable for this research. We are just about finished with all the samples from Cape Bird in this manner.
Screen washing sediments in the lab to reduce weight and extract organic remains left by penguins.
On Monday, we flew out to Marble Point, a small point on the Scott Coast on the actual continent of Antarctica. It is about a 25 minute helicopter ride from McMurdo across the sea ice that covers the southern Ross Sea to reach the continent and this point (remember, McMurdo Station is on Ross Island, so not on the continent). Marble Point has a number of abandoned penguin colonies, some of which I sampled ten years ago when I first began research in the Ross Sea. These colonies date from 2000-4000 years old, to a period of time known as the 'penguin optimum' or when warmer conditions allowed greater access to beaches for nesting sites than in this region of the Ross Sea today. Many of these beaches are currently blocked by multi-year sea ice, preventing penguins the access they need to use them for nesting. During the 'penguin optimum' there were many more penguin colonies in the southern Ross Sea than today. This seems odd as the current global warming trend is causing Adélie penguins to decline in the Antarctic Peninsula, so why are they stable or increasing in the Ross Sea? It seems that the Ross Sea is not nearly as sensitive to climate change at the Antarctic Peninsula, which is slightly warmer and more northerly anyway. The Ross Sea, however, is so cold that the warming trend is not yet impacting this region as severely as the peninsula. However, that may change in the future if the warming trend continues.
Enjoying the views of sea ice and orcas from the helicopter while flying across the southern Ross Sea to Marble Point.
We found a few more abandoned sites at Marble Point that I had not seen in 2001, so that was exciting. I was able to sample these new sites for organic remains that I will use for radiocarbon dating when I return to Wilmington. It will be interesting to see if these new sites also fall within the 'penguin optimum'. After completing our work, we had time to enjoy a view of a nice iceberg that was grounded on the sea floor just off shore from Marble Point.
View looking out at Marble Point. The abandoned colonies are located on the old beach lines, or terraces, near the small figure in the red coat in the mid-ground.
A 3000-4000 year old abandoned penguin colony at Marble Point.
A nice iceberg that was visible from Marble Point.
One last site we visited, just today, was Tent Island. It is only a few miles north of the station or just a 10 minute helicopter ride. We wanted to survey this island for any abandoned sites as we had not been here before and it is close to some active and abandoned colonies. We did not expect to find any sites and, after three hours of searching, this proved to be true. Still, it was worth checking and it was also nice to get outside and hike around for awhile. The island has lots of 'ventifacts', or rocks carved by constant scouring of the wind with ice crystals and sand. Lots of orcas were nearby as well, feeding along the ice edge, so we had good views of them. I will complete another entry here after our trip to Beaufort Island on Friday.
A 'ventifact', or wind-carved rock by constant scouring of sand and ice crystals on Tent Island.

Sea ice pushed up on the shore of Tent Island.
_____________________________________
30 January 2010: Beaufort Island
Yesterday we spent the entire day, beginning at 5 am, traveling to Beaufort Island, a relatively small island just north of Ross Island. Instead of flying there in a helicopter, we reached the island by ship: the 'Oden', a Swedish icebreaker contracted by the U.S. Antarctic Program to help break a channel through the sea ice to McMurdo Station every summer. This channel is needed for the fuel and resupply vessels that come later so they can safely access the station. Once at the station, the ships can dock at a large floating ice pier (a rectangular piece of sea ice now covered with gravel and used as a pier) because the water is quite deep right next to the station. This pier is where we boarded the 'Oden' for our journey yesterday morning.
The Swedish icebreaker 'Oden' clearing a channel in the sea ice so other ships can reach McMurdo Station to deliver supplies and fuel.
We arrived at the island by noon, but on the way we saw lots of minke whales and orcas, especially along the edge of the sea ice. Here, these species (plus penguins and seals) find more food so the ice edge is an active place to observe wildlife.
An orca (top) and minke whale (bottom) feeding at the edge of the sea ice near McMurdo Station.
Once at the island, we boarded a small boat to ferry us ashore. Beaufort Island has a large penguin colony (~20,000 nests) on the beach at the south end. It took two trips to get us all ashore, with Dr. Ainley's team going first so they could get started with their work, banding 400 penguin chicks. Ancient penguin sediments also have been discovered here by Dr. David Ainley, exposed in a beach terrace, and I was anxious to see them and collect samples to determine their age. After my team got ashore, we quickly located the beach exposure with the ancient sediments and began to measure and sample them. Liu and Jurek also came ashore to collect samples for their research while Larry helped me on the beach and Eva helped Dr. Ainley so she could gain experience at handling and banding penguin chicks.
Eva (at front) with Dr. Ainley and his team heading for the beach at Beaufort Island.
Beaufort Island, approaching from the south.
A very scenic beach at Beaufort Island.
A Weddell Seal relaxes on the beach at Beaufort Island.
At the beach exposure, we found several layers of buried penguin sediments, each with a layer of beach gravel and sand on washed on top. So, at least three occupation levels are preserved here, including the present occupation at the top. The preservation of bone and feather within each layer was quite good and I suspect they are no older than about 2000 years. The exact age, though, is something that will have to be determined later. Larry and I sampled several sections of the exposure, screening sediments and collecting bones and other specimens in place for radiocarbon dating.
In this beach exposure, you can see the reddish layers that represent past occupations by breeding penguins. At least three are visible, including the layer at the top the represents the current occupation.
We sampled the old penguin layers by screening sediment from each one, saving all organic remains including penguin bones and feathers.
We completed this work by 3 pm, then had some time to walk around the colony a little, watching penguins feed their chicks. All the chicks here look quite healthy and well fed, so that was nice to see too.
A penguin feeds krill to its chick by regurgitating food directly into the chick's mouth.
At 4 pm, we boarded the small boat again and returned to the ship. From there, we began our journey back to McMurdo, having dinner and watching more whales on the way, and arrived late that night by 10 pm. It was a good long day with more samples now to process in the lab, which we have been doing all day today.
We now are approaching the end of our season here at McMurdo Station. We are planning more day trips this week to Cape Crozier on Ross Island, where a large active Adélie penguin colony of some 150,000 nests is located. We will spend two to three more days working at this site, then finish processing and packing our samples for our journey home. The weather is already getting colder so winter is not far away and it will be time to leave soon anyway. I will post more with information on our last field trips later this week.
Dr. Emslie on the 'Oden' near McMurdo Station.
_____________________________________
2 February 2010: Cape Crozier and the End of the 2010 Field Season

Yesterday we flew to Cape Crozier for the day where there is a large Adélie penguin colony of approximately 150,000 nests. It is the fifth largest Adélie colony in Antarctica, so a very important site. It is also located in a beautiful spot overlooking the front edge of the Ross Ice Shelf. This ice shelf is an extension of a glacier into the sea and is about 100 m high above water line. It also is the source of most of the tabular or flat-topped icebergs that we see in the Ross Sea when pieces of the shelf break off and float away.

A view of only a part of the huge penguin colony at Cape Crozier.

Penguins on the beach at Cape Crozier.

We landed on the other side of a ridge outside the colony so the helicopter sounds would not disturb the nesting birds. Then, we hiked over to the colony where Jurek split off to study lichens and mosses growing here while Liu began searching for sediments that he could sample near the breeding sites. Larry and I searched eroded exposures around the colony for any evidence of earlier, buried deposits of pebbles and other signs of penguin activity at this site in the past. Most of the area, however, has only sediments from the current occupation which stretches back about 500-600 years. No evidence for an earlier occupation is apparent.

The orange lichens are one of only a few species (with mosses and algae) that grow in this part of Antarctica.

This profile shows only the top 5-10 cm of sediments are related to penguin occupation while the rest are natural deposits of volcanic sands and gravel.
We also hiked to the top of another ridge to the south, overlooking the Ross Ice Shelf and another, eastern section to the penguin colony. There were spectacular views here, so it was worth the time and effort to reach the ridge top. Besides the breeding adults at the colony, there are thousands of chicks, still molting their downy feathers which they must do before they can go to sea for the first time. The chicks often are seen chasing their parents, hoping to get fed more before they leave again. Once they are fully feathered, the parents stop feeding them and they eventually head out to sea for the first time. So, the fatter they are before they do this, the greater their chances for surviving their first critical winter in Antarctica.

A view of the Ross Ice Shelf from Cape Crozier.

Penguins traversing a high serac, or overhanging cliff of ice and snow, at Cape Crozier.
We were also fortunate today in that the weather was cold, but very nice. No strong winds or storms coming in, so after eight hours of hiking and working, the helicopter could still get back to us for our pickup. Often one must spend the night here if the weather changes and the helicopter can't fly to the site, but we are always dropped with survival bags containing tents, sleeping bags, food, etc., in case that happens. We were okay today, though, and made it back to McMurdo Station by dinner time.

Two fat penguin chicks chase their parent to beg for more food.

Nearly fully molted, except for down on the head, this
chick will soon go to sea for the first time.
We will try to reach Cape Crozier one more time this week, but then we will be done with all of our field work. All that's left to do is to complete our sample processing, packing, and getting ready to leave McMurdo and Antarctica. It's been a great season, though, and we now have lots of samples to study once we are back at our university labs. My Chinese colleague, XiaoDong Liu, and Polish colleague, Jurek Smykla, are very pleased with their samples and our collaboration continues to be a great success. Larry Coats has been an essential team member not only for our outdoor safety, but for his mapping skills and paleoenvironmental expertise. Eva will leave with a new set of experiences and memories that will serve her well in her career. None of this would have been possible without the support of the U. S. Antarctic Program, National Science Foundation, and Raytheon Polar Services. As for me, I am already looking forward to next season!


Dr. XiaoDong Liu and Steve Emslie hold up a Chinese banner to celebrate their collaborative work together at McMurdo Station this year.