26 January 2018
I have been spending several days in Buenos Aires waiting for our flight to leave for the Argentine Antarctic bases. One of the highlights here, if you are into Antarctic history and exploration, is to visit the iron-hulled sailing vessel, the corvette 'Uruguay', that was commissioned in the 1870s. This ship, now a floating museum at the Puerto Madero docks, was used to rescue Otto Nordenskjöld and his men from Snow Hill Island in the northern Antarctic Peninsula in 1902. A classic story in early Antarctic exploration, Nordenskjöld and his men had been stranded since, unknown to them, the vessel that was supposed to meet them had been trapped in the ice and crushed the year before. On board this floating museum were photos and artifacts from the voyage to rescue them, as well as some history of the ship itself.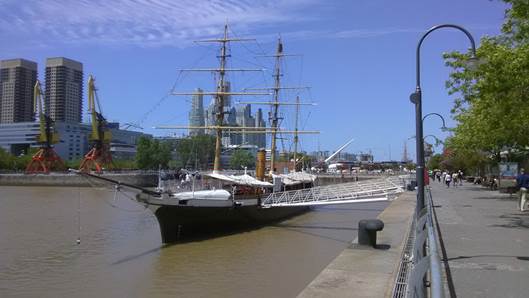 29 January
Our flight, on an Argentine Air Force C-130, left today from Buenos Aires and transported all of us going to the various bases and field camps. We were packed into the plane like sardines, along with all our cargo, bags, etc., and the flight took four hours to reach Rio Gallegos, another air base in Patagonia, southern Argentina. We have to wait again at this base for a few days before we fly to Marambio Base, Seymour Island, in the northern Antarctic Peninsula.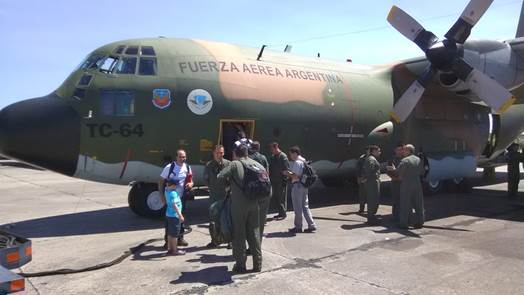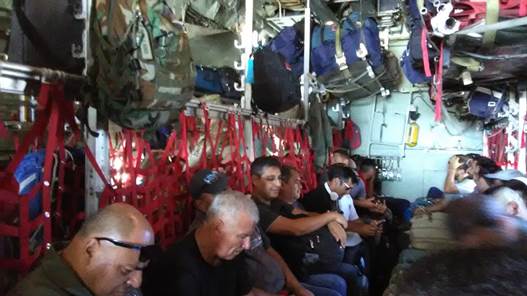 There is no first class or extra leg space on C-130 flights.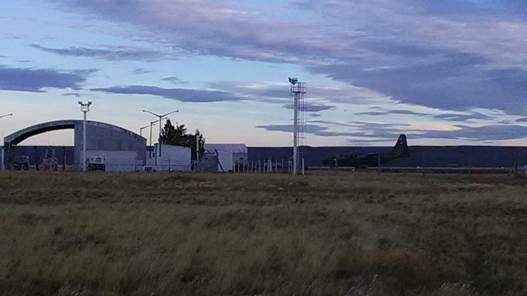 Rio Gallegos air base, Patagonia, Argentina
1 February
We left Rio Gallegos today and flew for about 3 hrs on the C-130 to Marambio Base. Here, half the personnel deplaned to work here or in field camps, while the rest of us bound for Carlini Base stayed on the plane. After a quick turnaround, we were off again and flew another hour to Isla 25 de May (aka King George Island) where we landed at the Chilean air strip at Frei Base.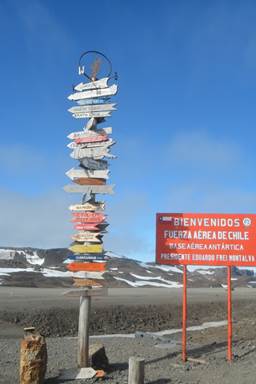 From here, we boarded an Argentine naval vessel and were transported to Carlini Base, about an hour journey around to Potter Cove, so not very far.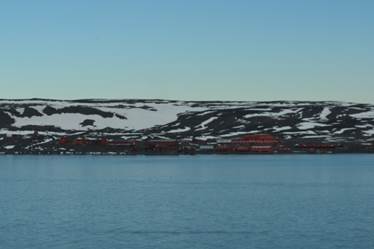 Carlini Base, Potter Cove, King George Island
6 February
Since arriving here, I have settled in to my room and have gotten oriented to the area. The penguin colonies are about a 40 min walk either over the plateau behind the base, or by following the beach around to Stranger Point. Here, there are breeding Adélie Penguins, now gone this late in the season, and Gentoo Penguins. Many large chicks still remain of this latter species and adults are still feeding them. A small colony of Chinstrap Penguins (only about nine nests) is also found here.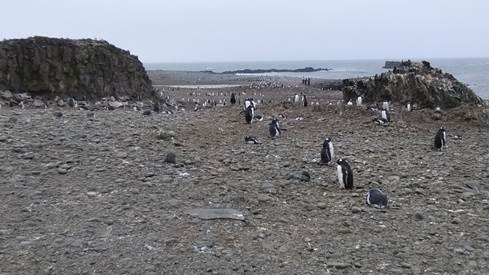 Gentoo Penguins and chicks on the beach at Stranger Point.
I am now working with my future Argentine Master's student, Yanina Ciriani, who was here already working with the penguin group. We have designed her thesis project and already have been collecting tissue samples from Adélie and Gentoo penguins for stable isotope analysis. I have also been shown the area where abandoned penguin colonies are located on Stranger Point. I have mapped 19 mounds on this point, most of which have not been used for breeding for many years. Most of the mounds are large (3-5 m in diam) and deep (>1 m), so there will be plenty of work to do to sample these. Yesterday, I began with one of the oldest appearing mounds, based on the lichens on the surface compared to recently used sites with no lichens.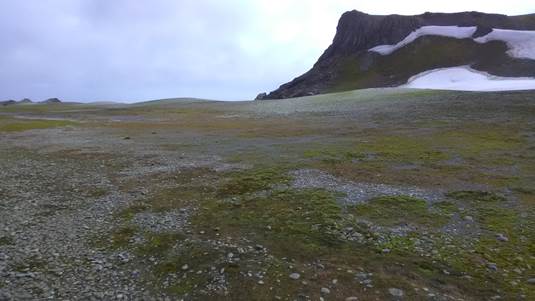 Large mounds of abandoned penguin colonies extend down the top of the ridge
at Stranger Point.
I established a 1x1 m test pit and began excavating in 5-cm levels, as in previous studies. I was able to complete two levels yesterday and already have been finding lots of old bones and egg membrane. So, the site appears to be quite rich and I will continue the excavations tomorrow. Today, though, we have strong winds and rain, so not suitable for working outside. Meanwhile, we are cleaning and drying the samples we've collected so far in a nice lab space at Carlini, which is shared by several groups working on birds, marine mammals, and microbiology. The facilities here are quite good in completing this stage of the sampling.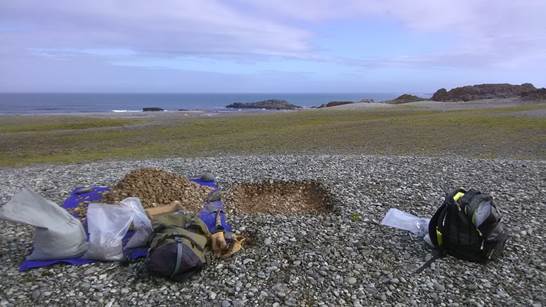 Excavations in Mound 4, one of the oldest appearing pebble mounds formed by
breeding penguins in the past. The exact age of the penguin occupation will be
determined by radiocarbon dating bone or other organic matter recovered
from the excavation.
9 February
Over the last two days I have been able to return to the Mound 4 excavations and it is now down to 45 cm in depth, to Level 9. I am finding lots of penguin bones and egg membrane in each level, but yesterday I hit a new level where the sediments changed color to a light gray. It is a distinct color change from the levels above (Levels 1-9), and there are still many pebbles, so I think I have reached the top of an older deposit. I will have to suspend operations for a few days, though, as last night it snowed about an inch and I need to wait for it to melt before I can continue excavations. In addition, tomorrow (Saturday) it is my turn to help the cook in the kitchen for all the meals. We all rotate this duty to help prepare the meals, wash dishes, clean tables, etc. This is very common at all stations, especially smaller ones of under 100 people. In addition, on Monday it will be my turn to clean the dorm area, but I hope to return to the excavations either Sunday or Tuesday and will post more of the excavation results then.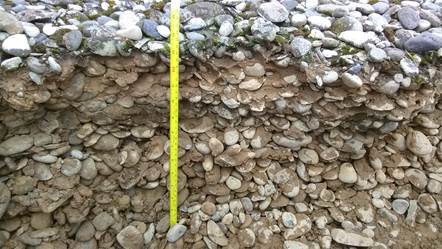 A profile of the excavations to Level 6 at Mound 4.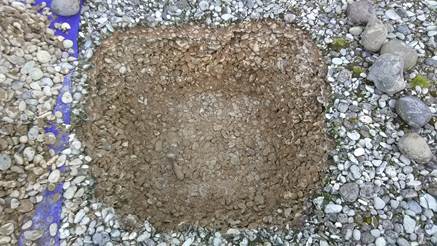 Looking down into the test pit after completing Level 9. Note
the lighter color starting to appear in the bottom now.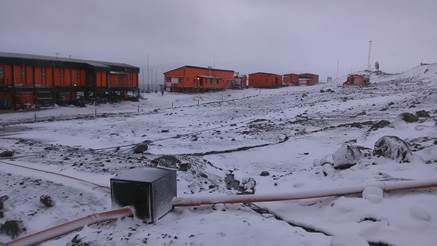 Snow at Carlini Base, 9 Feb. 2018
17 February
We had a couple of days of high winds and rain, so I spent much of the time working on samples in the lab at the base. By the afternoon of the 11th, Yanina and I were able to hike back over to Stranger Point and I excavated two more levels at Mound 4. I'm finding less material now as I get into these older levels.
February 12 was an important day here: it was the 36th anniversary of when the base was first opened. So, there was a nice dinner, ceremony, and party that evening. For dessert, the cooks made a large cake that was cut during the ceremony jointly by the oldest and youngest members of the group stationed here this season.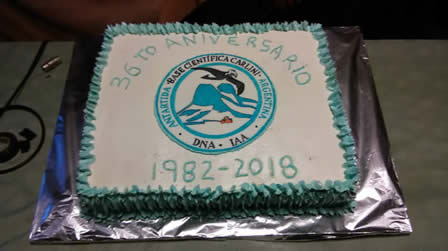 On Monday, February 13, we had a visit from the Koreans who came over in a zodiac from their King Sejong Station on Barton Peninsula, just around the corner from us on Potter Peninsula. With them was my colleague from UNCW, Dr. Joe Covi, and his graduate student Katie Reed. They were here for the day to sample sediments at some of the lakes and ponds above the base. Joe began this work with the Koreans two years ago and this was his second season with them at their station. So, it was great to meet them here and have overlapping visits to this area.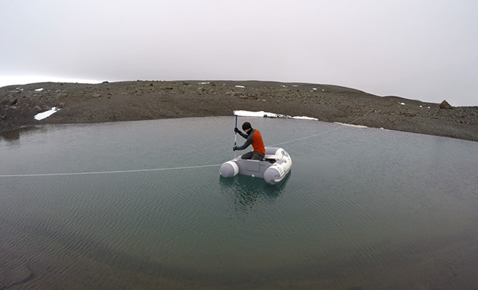 Dr. Joe Covi sampling a small lake above Carlini Base.
Yanina, Matias, and I went along with Joe and Katie to watch their sampling technique. Joe has a small inflatable raft he uses to access the center of small lakes, then a metal scoop on a long pole to reach the bottom and obtain sediment samples. He is studying larval invertebrates in the lake sediments and the effect of pollutants on their development. Unfortunately, in this particular lake the bottom sediments were frozen and could not be sampled, plus the weather was getting worse through the morning, making it difficult to use the raft. So, he will have to return another time.
On the 14th, we had more strong winds so it was another day of lab work. By the 15th, though, we had nicer weather and Yanina and I returned to Stranger Point in the morning. There I worked all day and excavated six more levels. The pit is now nearly a meter deep at Level 17, but here I hit permafrost and could go no deeper. I believe I am close to the bottom anyway, so I ended the excavations here and backfilled the pit. I have a good set of samples in stratigraphic sequence now from this large mound. We hiked back to the base late afternoon—a good day of work.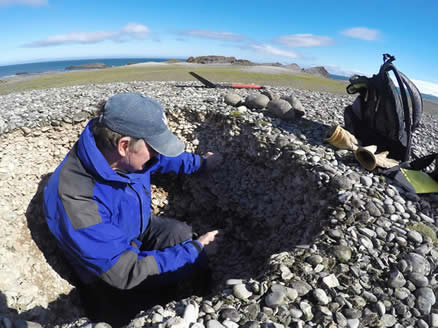 Here I'm examining the various layers of ornithogenic soils exposed
in the profile of Mound 4 after completing the excavations.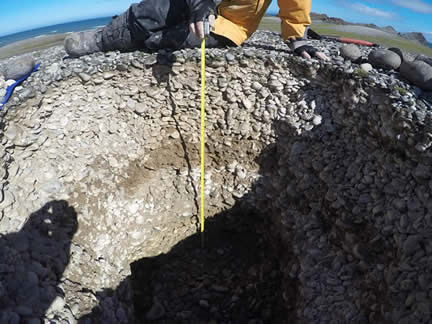 Profile of Mound 4 showing the different layers of ornithogenic soil.
While hiking back that day, we were also treated to a partial solar eclipse, the first I've ever seen in Antarctica. The photo I have is not the best, but if you zoom in on the sun, you will see the eclipse. Everyone at the base when we arrived was outside to take a look at this rare event.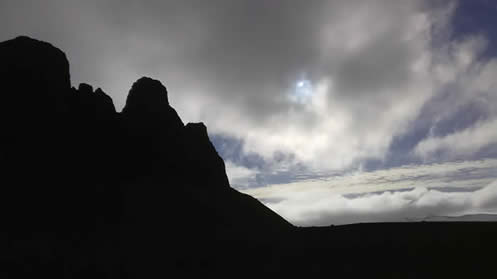 A partial solar eclipse, 15 Feb 2018, by Tres Hermanos peak.
Yesterday also was a nice day and a group of us hiked back to Stranger Point were I completed more surveys along the beach and on top of bluffs high above the beach. On the bluff, I found two old mounds covered with moss and lichen that may be ancient penguin breeding sites. I probed into the sediments with my trowel and revealed reddish sediments beneath a 10-cm layer of natural soil and rock accumulation. I could not find any tissues to verify it was ornithogenic, so I will need to return and excavate a small pit to be certain. If it is ornithogenic, it could be older than Mound 4 below on the point.
At low tide in the afternoon, we all hiked about two miles farther north along the beach from Stranger Point to where the Warszawa ice cap extends down to the shore. Here there were numerous small waterfalls and streams flowing into the ocean with the melting ice. It was scenic, but also sad as it's a reminder of how fast all the ice here is melting now. We had crossed large areas of recently exposed terrain, with no lichen or moss growing their yet because the land was so recently exposed. From all the freshwater runoff we saw, I would estimate that millions of gallons are entering the ocean on days like this from just this one ice cap. It is the front line of global warming and sea level rise.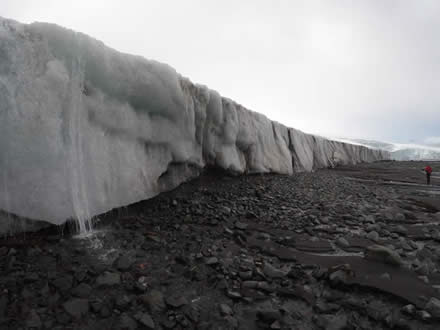 An ice cap melting: the edge of the Warszawa where it extends to the shore.
Returned to the station late afternoon, a good long day of hiking. Today the winds are up again and it rained last night with more likely today. So, it will be likely be more lab work and I need to screen wash the remaining sediments we excavated from Mound 4.
21 February
We had beautiful, sunny and relatively windless day on Sunday, the 18th, and we were able to take zodiacs over to Barton Peninsula across Potter Cove from the base. It took about 45 minutes to get there and we (Yanina and I) were dropped at a beach by the Chinstrap and Gentoo penguin colonies with another team of researchers. Yanina and I were there to collect tissue samples from chicks of the Chinstrap penguins for stable isotope analysis for her thesis, as we had already done for Adélie and Gentoo penguins at Stranger Point.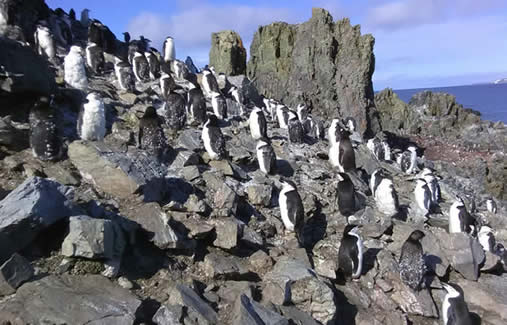 Chinstraps penguins on Barton Peninsula, 18 February 2018.
Many of the adults are now molting.
The colonies at Barton Peninsula were well along in the breeding cycle, with many large chicks of both species, now mostly feathered and ready to go to sea. In fact, it was fun to watch some of these chicks on the beach, checking out the ocean for the first time and playing in the surf. By early afternoon, we had completed our sampling and returned to the base.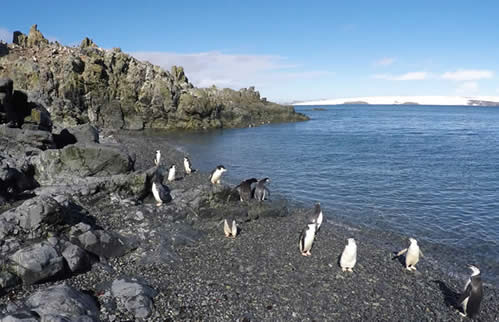 Chinstrap and Gentoo penguin fledglings tentatively approach
the sea for the first time at Barton Peninsula.
On Monday, the good weather continued so Yanina and I hiked over to Stranger Point to excavate one of the old penguin mounds I had found on the bluff above the point the other day. Now I wanted to determine if these really were ancient penguin sites. We established a small pit on the top of one, which I mapped at Mound 20 (M20), and began the excavations. We began finding lots of bones and egg membrane immediately and in each level we excavated, we found more. The mound continued down for eight levels, to about half a meter in depth, before we encountered natural sediments and the bottom of the penguin occupation. Even at this lowest level I recovered fragments of feathers, bone, and egg membrane so I will be able to obtain a complete sequence of radiocarbon dates on this mound and see if it's older or younger than M4 I sampled below, on the point. It was a good day of work and we returned to the base in the late afternoon.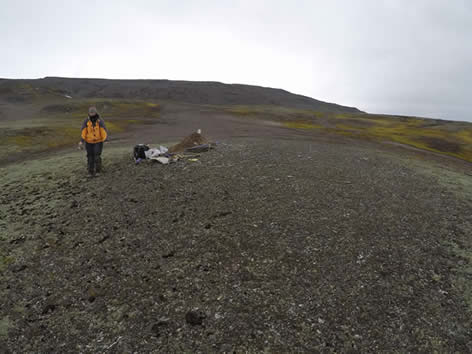 Yanina stands on M20 during our excavations.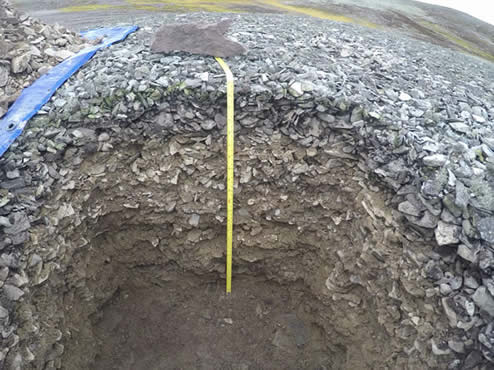 Profile of M20 after completing excavations to Level 8 (50-55 cm depth).
Yesterday, and now today, we've had high winds, sometimes up to hurricane force, so we have been unable to go back to Stranger Point. Instead, we've been processing samples in the lab, cleaning and drying tissues for transport back to my lab in Wilmington, drying sediments for screening and sorting to recover more organic material, and creating a database of all the samples. I think with a few more good days of weather I will be able to complete all the sampling I need to do here this season.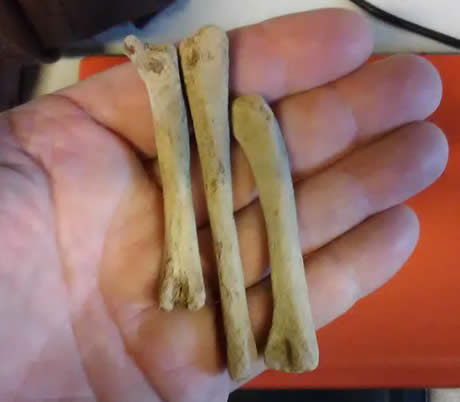 Ancient penguin chick bones from M20 Level 6 after cleaning
in the lab. Radiocarbon dating will later determine their age and
how long ago penguins were breeding at this location.
1 March
We've had a week of strong winds and rain since I last wrote, so I worked on samples, notes, reports, etc., at the base for most of that time. Yanina and I did venture out on Friday, the 23rd, when the winds let up a little. We hiked to Stranger Point and excavated into one of the Adélie penguin mounds that is part of the current occupation so I could obtain datable tissues from the bottom layers to determine the age of the colony that's here now. It was wet, cold, and sloppy work but we were able to complete the excavation and return to the base to warm up.
Finally, on the 26th, we had nice weather again and returned to Stranger Point for more sampling. I excavated one more of the modern Adélie mounds to help confirm the age of this current breeding colony, then sampled into one of the older mounds (M10) for comparison to previous excavations at M4. The layers of sediments were very similar to those of M4, though I could find little organic material for radiocarbon dating. After completing this sampling, some of the last I need to do here as the season winds down, we returned to the base.
On the 27th, a group of us went to Stranger Point, some to monitor the Brown and South Polar skua nests in the area, and I wanted to revisit all my sites, confirm data points with my GPS, and take more photos. It was again a very nice day with low winds. I was treated to some interesting observations as well, including a brutal fight between two Brown Skuas, probably over territory, that went on for five minutes before breaking up. Skuas try to avoid physical combat like this as it could result in injuries that affect their survival, if not end in death of one skua at the time. Instead, they use displays and calls to confirm territory boundaries, so it is rare to see an intense fight like this and I was able to record much of it with video that I will post later on my You Tube page at: https://www.youtube.com/channel/UCrn5--tNPW65rlaSYv7ncNA.
Hiking back to the station later in the day, we went by a colony of Giant Petrels. The chicks are large and downy and still have a ways to go before fledging, but seem to be doing well.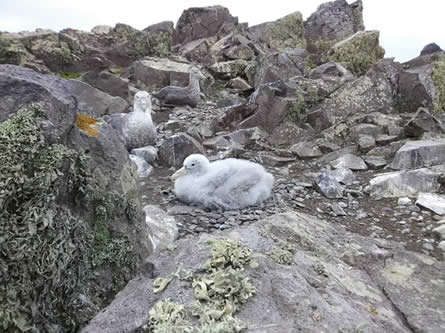 A Giant Petrel and its chick near Carlini Base
I returned to Stranger Point today with two geologists, Martín and Matias, to look for a Holocene age deposit of penguin bones that had been investigated by Argentine geologists in the 1990s. On the way to the point, we saw a very unusual ring cloud—I have never seen one like it, here or anywhere else in the world. Very interesting!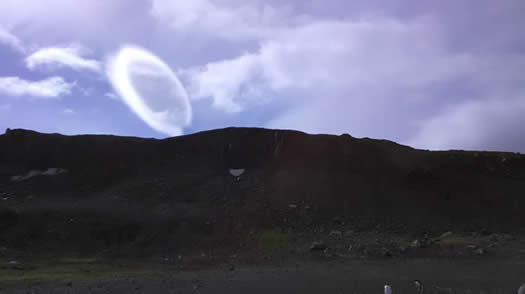 A very unusual cloud near Stranger Point
While searching for the fossil deposits along the beach near Stranger Point, I also saw this American Sheathbill trying to interrupt a Gentoo penguin feeding its chick. The sheathbill would wait until the moment of feeding, when the adult is regurgitating food, and then fly between them and try to snatch some of the krill. It seemed to be having some success at this as the sheathbill was swallowing food after each interruption. I have never seen a sheathbill practice this behavior, so again a day for seeing something new. Again, I will post a video of this on my You Tube channel later.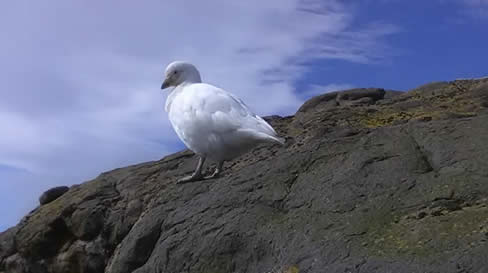 An American Sheathbill at Stranger Point
Sheathbill flying between a Gentoo penguin and its chick to steal
krill being fed to the chick
I also investigated where the sheathbills were going and soon found a nest site under a large boulder at the tip of Stranger Point. The 'cave' under the boulder had two large chicks that both parents were feeding with small amounts of krill they brought to them in their bills. Also, the floor of the cave was decorated by dozens of penguin bones and limpet shells. These birds are very interesting and hold a unique niche in Antarctica as there are no species in the Arctic that would be their counterpart at seabird colonies there. The sheathbills also have a very eclectic diet, feeding not just on stolen krill, but undigested krill in penguin guano, plus I have seen them scavenging from penguin carcasses and even foraging for copepods washed up on the beach.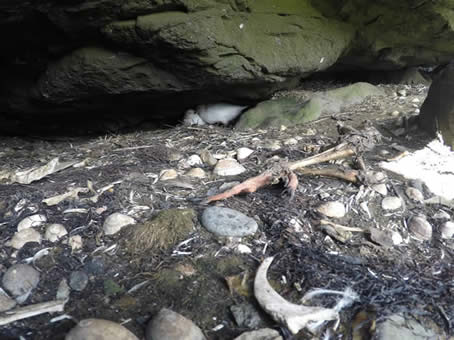 A sheathbill nest site under a large boulder at Stranger Point. Note
the two large chicks huddled in the back. Also, the floor of the
'cave' is decorated with many penguin bones and limpet shells.
We were about to give up on finding the fossil deposits when Matias started digging into the upper beach at a new place. Soon, he uncovered some layers of rock and gravel overlying sand, clay, and occasional rock and pebbles that matched the description of the fossil 'Pingfo' location as described by del Valle et al. (2002; Antarctic Science 14: 263-269). Then, he started finding penguin bones in the sand/clay layer, so we excavated a larger trench and profile to expose the layers for mapping. I was able to collect a few penguin bones form the sand/clay, including a juvenile bone which indicates nesting nearby. While these sediments are not ornithogenic, as those in the penguin mounds, they do indicate nesting nearby, probably higher up on the beach, in the past. We ran out of time by late afternoon to expose more of the deposit, though, and returned to base. We will go back to this deposit to complete the profile later this week or next. So, our final days here are still filled with lots of work and new discoveries. It's been good to have a stretch of good weather to do this work as well!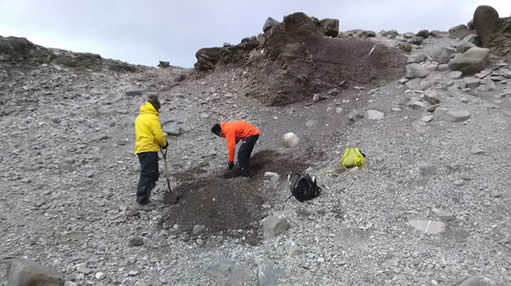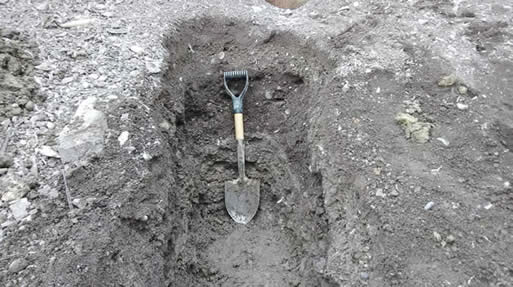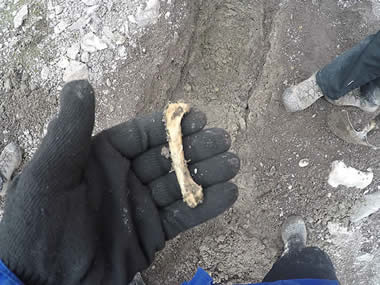 The 'Pingfo' fossil penguin locality on the upper beach near
Stranger Point. Martín and Matias (top) are helping expose the profile (middle).
Penguin bones were found in the lighter colored lower layer in this
exposure and are likely between 4000 and 5000 yrs old (bottom).
Daily temperatures at the base are starting to get colder now as winter approaches. Today, we have snow again and light winds. More snow is expected tomorrow as we begin our last week here.
8 March
The weather that came through our area late on 28 February prevented any field work for a couple of days, due mainly to high winds. By Saturday, 3 March, we were able to get out again. That day, I accompanied Martin and Matias to a site across the cove from Carlini on Barton Peninsula where they wanted to map the strata of various volcanic layers they had located on a previous trip. I went with them because they also found some fossilized plants and tree trunks in the area.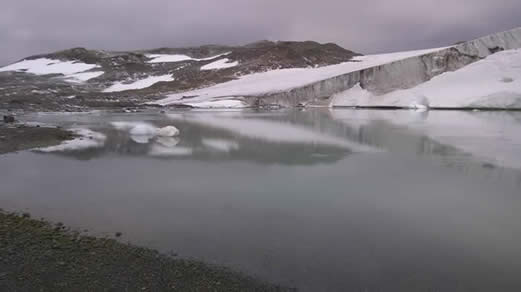 Barton Peninsula with recently exposed terrain from the receding ice
cap. Newly exposed rock layers are revealing new information on the
geologic history of the area.
The terrain along the beach on this side of the cove is recently exposed from retreat of the ice cap, which is still melting and retreating. We walked along the beach to the area of the volcanic rocks and Martin showed me where carbonized wood and plant remains were exposed. It was an interesting site as there was an entire tree trunk, with segmented bark, exposed at one place. Searching further, I found loose pieces of rocks on the beach with impressions of ferns that may be around 60 million years old. It was a very different world here back then.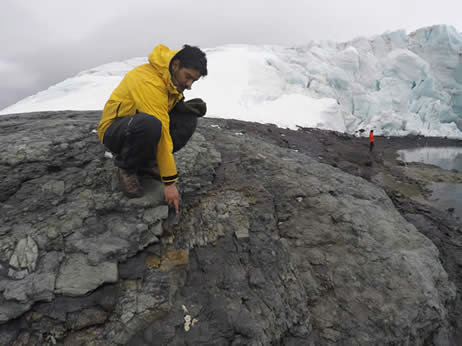 Martin points to a carbonized layer in the volcanic strata
at Barton Peninsula.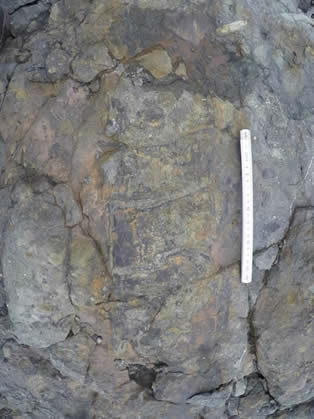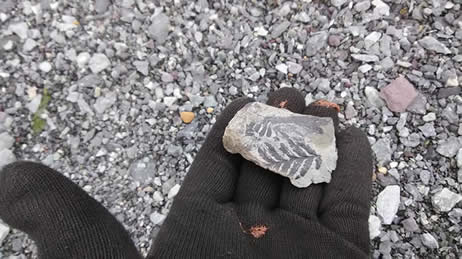 A fossilized tree trunk (left) within the carbonized strata and a fossil fern (right)
found as a loose piece on the beach nearby. Both may be around 60 million years old.
After completing the work that day, another storm system moved through our area on 5-6 March with strong winds, snow, and blizzard conditions all day on both of those days. It finally cleared out late on the 6th and it was a calm, nice day yesterday so Yanina and I hiked to Stranger Point to look again for the 'Pingfo' deposits. However, we found the ground was now frozen and no excavation was possible. I did locate, though, a nice exposure of marine deposits at the top of a terrace above the beach not far from where Martin and Matias were digging the other day. This new deposit matched the description exactly of the upper beds published by del Valle et al. (2002) with a bed of rock and gravel above another of sand, pebbles and bone. I was able to clean the face of this profile for about 2 m along its front and in doing so found and collected a number of penguin bones from the lower sandy layer in situ.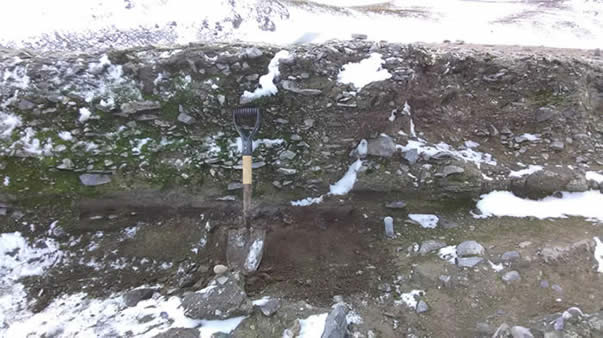 Top of marine terrace at Stranger Point showing two layers, probably Beds 5 and 6
as mapped by del Valle et al. (2002) that date to the middle Holocene (4000-5000 yrs old).
The lower sandy level (Bed 5) is where penguin chick bones were recovered.
This sandy layer probably represents Bed 5 as described by del Valle and I was able to confirm two things about it: it is not an ornithogenic deposit, but many of the bones are from juvenile penguins and chicks. The bones are preserved well enough for radiocarbon dating and if the dates I obtain on them can confirm the age published by del Valle at between 4000-5000 yrs old, then it would be direct evidence for the presence of breeding penguins here at that time. Further, it would be the oldest definitive record of penguins breeding in the northern Antarctic Peninsula found to date. So it was a successful sampling day despite the frozen ground and snow!
Today the station is a hub of activity as the cargo ship is here to take away wastes and the C-130 flight will be leaving from Buenos Aires tomorrow to pick us up on Saturday. So, everyone is packing their samples and preparing to leave as the field season comes to a close. It's been quite a successful season for me, with a total of five weeks here, as I have been able to sample not only numerous abandoned colonies, but also collect modern tissues from three species of penguins for Yanina's future M.S. thesis research. The relocation and sampling of the Pingfo site was a final objective that rounds out the season nicely. Now for the long journey home.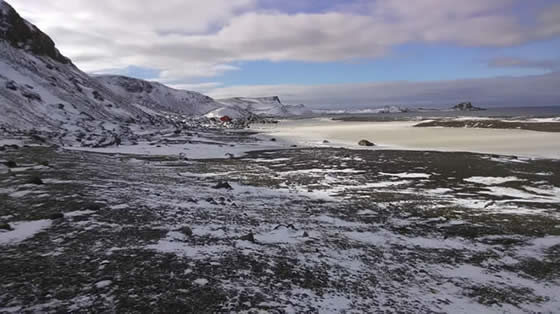 A final view of Stranger Point after the blizzards of 5-6 March and
before returning home.